Videos
Violence in Spain as ultras invade pitch and attack opponents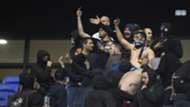 There were shameful scenes at the Spanish Tercera Division match between San Fernando and Alcala at the weekend.
Pedro & Herrera shine in Team of the Week
Following the conclusion of the fixture, with the players walking off the field, Alcala ultras jumped the fence separating them from the field and began to attack the San Fernando players.
A mob of fans leapt onto the field and then marched down the tunnel after the embattled home side suffered a 1-0 defeat.
Watch the dramatic scenes unfold above.