Los Angeles
VIDEO: Diego Rossi scores first goal in LAFC history with beautiful curler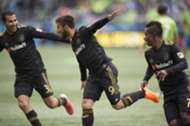 Diego Rossi did not take long to score the first goal in Los Angeles FC history, and it proved to be a winner as the expansion club earned a 1-0 away win over the Seattle Sounders on Sunday. 
Just 11 minutes into LAFC's first ever Major League Soccer game, the 19-year-old curled home a beauty against the Sounders at CenturyLink Field. 
Mexico international Carlos Vela supplied the assist, slipping in the Uruguayan with an incisive through ball. 
You always remember your first.

Vela  Rossi   @LAFC takes the 1-0 lead! #SEAvLAFC https://t.co/RJbyu70r0b

— Major League Soccer (@MLS) March 4, 2018
Bob Bradley's side signed both Rossi and Vela as designated players in the offseason, and will hope to see plenty more combinations between the pair as the season goes on. 
The goal was the fastest scored by an MLS expansion team in its first game, taking over a record set by Fredy Montero of the Seattle Sounders in 2009, who scored just 12 minutes into the club's first MLS match. 
Take a closer look at @LAFC 's first-ever MLS goal.    #SEAvLAFC pic.twitter.com/mvMZRSkCsa

— Major League Soccer (@MLS) March 4, 2018
Despite taking the early lead, LAFC was far from having the game all its own way. 
Seattle nearly pulled level just two minutes later, but former Sounder Tyler Miller came up with a massive save on Nouhou Tolo's skidding shot, and the LAFC shot-stopper would be tested throughout the game. 
The Sounders rolled up 21 shots and had a second-half Will Bruin goal waved off for offside as they pressed for an equalizer. 
But Miller was up to the task and got plenty of help from his back line as the expansion side held on for a 1-0 win in its first ever match. 
Laurent Ciman says no! The @LAFC captain helped to keep Seattle off the board in the first half. #SEAvLAFC pic.twitter.com/qeECPL5TVv

— Major League Soccer (@MLS) March 4, 2018
Vela was taken down for what looked like a sure penalty in the second half that could have helped LAFC double the lead, but no foul was called and Bradley's side was forced to hold firm with just the one-goal advantage.
Two yellow cards in the space of five minutes to Seattle center back Tony Alfaro saw the Sounders finish the match with just 10 men, and LAFC kept the clean sheet, allowing Rossi's early goal to stand up as the winner. 
The shutout was also notable, with LAFC becoming the first expansion side to not allow a goal in its first match since the Sounders in 2009.