CONCACAF Gold Cup
U.S. midfield falls flat and five takeaways from USA's tie against Panama
If you came away from the U.S. national team's 1-1 draw against Panama in Saturday's Gold Cup opener wondering what happened to the team that showed so much promise against Ghana a week ago, don't worry. You definitely weren't alone.
Saturday's draw was a far cry from the win against the Ghanaians, and while some things remained the same, there were some worrisome differences. On the bright side, Dom Dwyer scored yet again, while Brad Guzan turned in his second straight strong showing in net. Kelyn Rowe built on his national team debut a week early by contributing an assist and serving as one of the few bright spots in the attack against Panama.
And the not-so-bright side? The defense was nowhere near as impressive as a week ago and the midfield that looked so good against Ghana struggled in the Nashville heat, failing to generate many chances or keep possession. Turnovers and slack defending allowed Panama to create more dangerous scoring opportunities than the Americans did.
Shaky defense a concern for USMNT
"We need to make sure we're better all around the pitch in closing guys down," U.S. goalkeeper Brad Guzan said. "We gave them too much time on the ball, too much space, We never got close enough, whether it be in terms of pressing or in our defensive third. We've got to make sure we get closer to guys, and at the same time we need to make sure we take care of the ball. We turned the ball over too easily some times."
"We didn't play well on the day," Bruce Arena said after the match. "Give Panama credit. They looked like a little bit more of an experienced team on this level. I thought their central midfield played very well and on the day they did a good job. We played okay. Nothing great. I'll say it's a good experience for a number of our players."
Here are some key takeaways from the U.S. tie against Panama:
---
CORONA STRUGGLES IN PLAYMAKER ROLE
---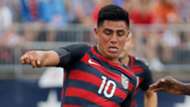 Joe Corona was largely invisible on Saturday, and his struggle to find the game led him to dropping deeper in search of the ball, which at times left Dom Dwyer isolated. Save for Kelyn Rowe, none of the U.S. midfielders could generate chances with any sort of regularity, and simply keeping possession proved difficult against Panama's central midfield pairing of Anibal Godoy and Gabriel Gomez. 
Given the lack of true playmaker options on the U.S. roster, Corona's struggles against Panama certainly raise the question of whether Bruce Arena will have no choice but to call in a Darlington Nagbe or Clint Dempsey for the knockout rounds to give the attack some creativity. In fairness to Corona, the struggles of the midfield as a unit made things tough for him, and while he isn't blameless, he showed against Ghana that he can create when those around him are passing and moving well.
---
ACOSTA'S RUDE AWAKENING
---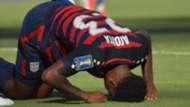 So maybe we were too quick to anoint Kellyn Acosta as the ready-for-primetime option who could step into the U.S. full-strength squad at the age of 21. On Saturday, he showed his age, struggling to deal with Panama's midfielders, and turning the ball over repeatedly. His set-piece delivery was poor, and he carried a chunk of the blame on Panama's goal.
In fact, the only bright spot for Acosta on Saturday was the tweet he posted after the match basically owning up to his poor performance. Don't expect Arena to bury Acosta on the bench. He knows as well as anyone that young players will have their ups and downs, and the FC Dallas man is far too talented to cast aside. It wasn't as if he was the only midfielder to underperform on Saturday—Dax McCarty turned in a lackluster showing as well. Acosta should get more opportunities throughout the tournament, but he will need to step it up if he's going to keep a starting role when the knockout rounds roll around.
---
ROWE IMPRESSES AGAIN
---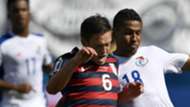 Yes, Rowe could have done better on Panama's goal, but his defensive breakdown on the equalizer shouldn't overshadow what was a second straight promising performance from an attacking standpoint. He set up Dwyer's goal, and played a role in some of the better attacking moments from the U.S.
Could Rowe improve some defensive aspects of his overall game? Sure, but the fact remains he has looked good in both of his national team appearances and he has done enough to merit more opportunities. Given his versatility, and good performances, you have to wonder if Arena might give Rowe a look in an attacking midfield role.
---
VILLAFANA'S UPS AND DOWNS
---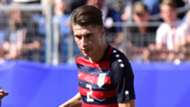 Overall, Jorge Villafana had some defensive breakdowns that you don't like seeing from your left back, much like he did against Ghana, but much like last week's friendly, Villafana made some plays that remind you why Arena likes him.
It was Villafana's defensive pressure that forced the Panama turnover just before the U.S. goal sequence, and he pulled off a nifty move in the 26th minute to free up Rowe with a shot inside the penalty area that was ultimately blocked. It should be noted that he, like Omar Gonzalez, came into U.S. camp off of his summer vacation, and is still working to reach his full fitness and sharpness. In other words, we shouldn't go assuming Villafana's defensive hiccups lately will cost him his starting job.
---
SUBS SHOW PROMISE
---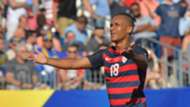 The U.S. attack needed some life on Saturday, and Arena was able to find some when he brought in Juan Agudelo and Gyasi Zardes as second-half substitutes. Neither player was able to seriously take over the game, but each showed some promise. Jordan Morris didn't have much time to contribute, but was active in limited minutes.
The encouraging cameos were especially important for Agudelo and Zardes. Agudelo finds himself behind Dwyer in the forward pecking order, a position he will be hoping to change when given the opportunity. Zardes is still trying to re-establish himself with the national team after an extended period of time away due to injury. He hadn't really impressed that much with the LA Galaxy before earning the Gold Cup call, but Arena knows him well and should give him his chances to regain a key role on the national team.
Given how lackluster the U.S. attack was on Saturday, Agudelo, Zardes and Morris could all find themselves ready to start when the team returns to action on Wednesday against Martinique.