MLS
U.S. international Jonathan Spector could be on his way to MLS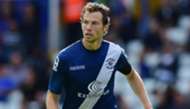 U.S. international Jonathan Spector could be leaving Birmingham City for Major League Soccer, according to manager Gianfranco Zola.
Spector, 30, has been with Birmingham since 2011 but his contract is set to expire following the English Championship season.
Why aren't newspapers covering MLS?
"The right-back position was not our concern or focus to change because I am very happy with the ones I have got," Zola told reporters on Tuesday. "But there might be a request for Jonathan Spector to go back home, and that case is something I have to consider.
"He has been a very loyal player for this club. In six months his contract is going to be up, and if we can help him with something we will try to do that -- he deserves that.
"I cannot say about the team but there might be the possibility that Jonathan will be going back home and that's the reason why we are active in that position, possibly in this transfer window."
Spector began his professional career with Manchester United in 2003. He played in three games with the Red Devils before joining West Ham, where he made 101 appearances.
Spector is currently the longest-serving player at Birmingham City, making 155 appearances for the Blues.
Spector, a Chicago native, would be joining MLS for the first time.