Real Madrid
Real Madrid youngster faces FIFA punishment after 'slant eyes' Uruguay celebration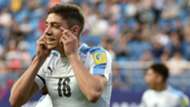 Uruguay Under-20s star Nicolas Valverde could be sanctioned by FIFA after being accused of making a racist gesture during Sunday's World Cup win over Portugal. 
The South American youngsters prevailed in a gripping quarter-final clash, going through on penalties after twice falling behind in a 2-2 draw after extra time. 
Lavezzi apologises for 'racist' photo
Valverde hit twice from the penalty spot, equalising in the second half and turning home Uruguay's first effort in the subsequent shootout. 
But the manner of his celebration after the opening kick, in which he slants his eyes, could land him in hot water with FIFA. 
The Real Madrid Castilla teenager has claimed the gesture was in homage to his first agent, legendary Uruguayan talent-seeker Edgardo 'El Chino' Lasalvia. 
He also published an apology in Korean on his official Twitter page. 
인종차별적 세레머니가 아니라 친구를 위한 개인적인 세레머니 었습니다. 제가 의도한 바는 인종차별이 아닙니다. 죄송합니다. pic.twitter.com/QmeZei8rmA

— Fede Valverde (@fedeevalverde) 4 de junio de 2017
"This was a private celebration for my friends, not a racist act. It was done without any racist intentions, and I apologise," Valverde explained on the social media website.
FIFA has now called on Uruguay to explain Valverde's actions, as well as a celebratory photo of the entire squad in which several Celeste players make a similar gesture. 
"It is the same gesture they have been making since the South American Championships in Ecuador," Aldo Gioia, part of the Uruguayan delegation in South Korea, told 180.
"They are making a big deal out of something that really shouldn't be and we have to answer them. We thought that with Valverde's explanation and apology this would be over but now we have this."
The Uruguayan Football Assocation (AUF) must answer FIFA's citation by Tuesday, at which point Valverde and the Celeste's punishment will be made public.