UAE v Japan
UAE AFC World Cup Qualifier: Mahdi Ali positive ahead of Japan encounter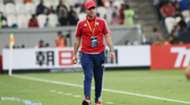 UAE boss Mahdi Ali remains upbeat despite a lengthy injury list ahead of the team's World Cup qualifier with Japan at the Hazza Bin Zayed Stadium on Thursday evening.
The hosts are in fourth place in Group B and take on the Asian giants who occupy second spot.
"We are having some difficulties and we miss many players," Ali said at a packed pre-match press conference on Wednesday.
'Great atmopshere between Ramos and Pique' - Busquets on Spain's happy camp
"In the UAE, we have a limited number of players we can choose. But we are used to this situation — it is a part of football. We should not think about the injuries, but think about how we play this match, and how to win it. We will try our best and work hard to make a positive result."
Majid Hassan and Amer Abdul Rahman are sidelined through injury while Tariq Ahmad is suspended. Ahmad Khalil and Esmail Ahmad are doubts as well.
Even though UAE are faced with a daunting task without key members of the squad, Ali insists that the players are focused on achieving a positive result.
"We are thinking about this match at the moment," Ali said.
"In football, anything can happen, so you have to prepare for everything. What we think about is only how to do our best regardless of the result that comes. But usually the result comes with hard work, so we think only to work hard and do our best on the pitch irrespective of what condition we have at the moment.
"In the end, this is football and one team will win. We always think about positive things, we don't want to think about negative things. And I hope that thinking about the positive will make a good emotion and motivation for us."
Messi, Lukaku, De Bruyne & the FIFA 17 Ultimate Team of the Week
Encouragingly, UAE haved emerged victorious in their last two meetings with the Japanese having beaten them in the quarter-finals of the 2015 Asian Cup in Australia before clinching a 2-1 win earlier on in the group last year.
"Football doesn't believe in history — what happened in the previous game is in the past. Football knows only one language: how prepared you are, how strong you are on the pitch, how much effort you give in the game. And I think we always play our football, always try to work hard, whether in training or on the pitch. And that makes the difference in the team.
"Of course, we are in a good position as well as the other three teams in the table. This gives us a lot of motivation to fight for our chances to qualify. The last time was 1990, and this gives us a lot of motivation for the players, the fans and the staff. Mentally we're in good shape because we're playing at home and we'll work hard to do our best in this game."