U17 World Cup
U17 World Cup: Inspired by Paul Pogba and Jesse Lingard, Mali aim to end Ghana's campaign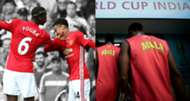 "Pogba et Lingard?", asked this reporter in his limited knowledge of the French language.

"Oui, Pogba et Lingard", pat came the reply from Salam Giddou.

"Merci", this reporter thanked the Mali U17 player who clarified that it was indeed the Manchester United duo that inspired the Les Aiglonnets dressing room to practice their celebration move from a snippet that emerged four days earlier on FIFA World Cup's official Instagram handle.

After an all-European Round of 16 game between France and Spain, Guwahati now welcomes two African powerhouses for an emphatic quarterfinal game of the 2017 FIFA U17 World Cup on Saturday.

As rain engulfed the city after the Diwali festivities, a gloomy image overshadowed the whole pre-match press conference atmosphere on the eve of the game but smiles returned as Giddou was more than happy to let know of his teammates' idols when it came to the celebrations.
 
Having already scored thirteen in the tournament so far with most coming from the feet off Lassana N'Diaye, Mali have had the opportunity to exult no less but with a place in the semi-finals up for grabs and facing old foes
Ghana
, the significance of each goal will be heightened to the maximum.
This will be the third time these two face off in this calendar year. First on 28 May, during the African Cup of Nation U17 final in Gabon and then in Abu Dhabi in a pre-World Cup preparation friendly on 20 September. Both times, Mali came out on top, with 1-0 and 2-1 margins respectively.
On the opposite camp, there were fireworks with words from the very outset. Ghanaian defender Najeeb Yakubu, who with a solemn "thank you very much for asking me this question" to every question asked to him provided scribes with that one quote which generally makes the headline on the backpages next morning.
"We are very ready to pay them back", a bold statement from a seventeen-year-old whose words echoed his style of play - no-nonsense and he meant business, straightaway or maybe the fear of losing to their West African counterparts yet again, intolerable.
From a journalist's point of view, this would have been one of the more fun press conferences given the young players, who generally speak sticking to their team media officers' given glossary of 'diplomatic' words, this unbridled and uncensored display of feelings was refreshing.
Amid all this, Ghana head coach Samuel Kwesi Paa Fabin sounded some words of reasoning and caution for these youngsters not to go astray from their duties. "Many are taken away from the continent (Africa) at a very young age. They don't finish the development and fall off. We can't blame it on the tactical inability of the players because some of them have made it big.
"Some come from poor families and then you find swimming in millions and they lose focus, then they fizz out from football altogether," he said, making it clear that to have a Paul Pogba-esque success, one needs to work that much harder and not get influenced easily especially at this age and that too coming from Africa.
However, with the two-time champions looking for some 'revenge' over last edition's runners-up, there should be goals and if so, there will be celebrations. Expect to see some dabs from the Malians to counter the Ghanaian's Fubia. All in all, expect a cracker in Guwahati no less.