U17 World Cup
U17 World Cup - GFA panels holds parlance with Manohar Parrikar to refute boycott allegations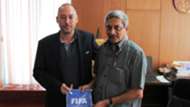 As inviting petrichor rises up from the rain soaked shores of Goa under the spell of a receding monsoon, the Goa Football Association (GFA) is scrambling its senior management into action to restore the tranquility between itself and the state's ministry.
It all kicked off the day before, 29th September, when Manohar Parrikar the Chief Minister of the state alleged that the GFA's pomposity ensured that no Goan player made it to the 22-member Indian U17 sqaud selected by Luis Norton de Matos to participate in the U17 World Cup, scheduled to start in less than a week's time.
The former defence minister of the Bharatiya Janata Party (BJP) led central cabinet also seemed to indicate that the state association was going to 'boycott' the tournament, the complete quotes which can be read here, somehting which drew a reaction from the state's football governing authority
Taking on the mantle of appeasement, Schubert Furtado, Vice-President (South), of the GFA led a 12 member team of officials and met the head of the state to assure the machinery of the GFA's participation in ensuring the U17 World Cup matches held in Goa would be a success.
The posse consisted of Mr. Welvin Menzes (Hon. Gen. Secretary), Mr. Angelo Albuquerque, Mr. Sanjiv Nagevkar, Mr. Jaju Fernandes, Mr. John D'Silva, Mr. Bishut Themudo, Mr. Anthony Pango, Mr. Anthony Leo Fernandes, Mr. Arnaldo Costa, Mr. Patrick D'Souza and Mr. Raju Banavlikar.
"We have not boycotted the International event and are ever willing to be associated with the historical event in the country. I am sure that the Chief Minister will intervene and give the State Association its due recognition," stated a brisk Furtado, immediately after holding parlance with Mr. Parrikar.
The GFA in turn alleged that despite repeated request to bring its role in the U17 World Cup into lucidity, the concerned authorities hadn't responded with any certainty. The 61 year-old head of state has now assured the GFA that he will personally intervene to ensure the GFA are informed about their role