U17 World Cup
U-17 World Cup: Luis Norton - When ISL teams go to Europe, they lose to fourth division teams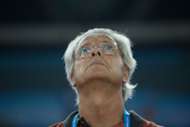 Luis Norton de Matos stated that Indian players have difficulty to control the ball with one touch because they didn't start to play the game at an early age.
The India Under-17 coach reiterated that at least 10 years or work needs to be put in before expecting a player to showcase skills.
The former Benfica 'B' coach was questioned as to why he didn't start with two strikers against Ghana.
"Perhaps, the score would have been 7-0 or, 8-0. This is the reason. We cannot give them space. We must be organized. We played with Aniket (Jadhav) and Rahim (Ali) later in the game and Aniket couldn't touch the ball.
"I know the limitations of my team. If I have two-or-three players of Ghana, then we can play in an organized way with some counterattack. Watch the technical difference as we find it difficult to control the ball with one touch when the ball is sent forward. Why? Because this is the work of 10 years."
Norton mentioned that from his experience in Africa, he knew that the Ghanaian players would be strong in duels.
"I spent five years in Senegal and I know these players started on the street. If you play with two strikers, Ghana players would have won all duels. They are confident, faster, more technical and have more intensity. They would have had a lot of time on the ball, they always have a player coming in from the lines and create numerical superiority.
"I would have fewer people to defend in zones and perhaps, we could have conceded more goals. I must mention that if you are physically tired, mistakes begin to happen. There are a lot of teams with experience like Iraq and Iran whose quality and experience is different to what we have. I can only make an omelette from the eggs that I have. I am proud that the coach of Chile, Ghana, USA and Mexico have praised our organization. This is the job of my players and me."
Norton went on to suggest that the I-League and the Indian Super League (ISL) are on a lower level when compared to the intensity of Under-17 World Cup.
"The players are intelligent but the progress is slow. Now they will play in the I-League and get more strong. The Under-17 World Cup is a stronger competition than the I-League. I know that when ISL teams go to Europe, they lose to fourth division teams in Spain. Let the children play now. Lets these boys play 18 games in the I-League and get more strong.
"They need competition to play at this level. The other team was very strong. Congratulations to the boys and you. The crowd was fantastic. Hope they can do something important in the future."