Pahang
Pahang's two-goal lead is not enough - Matthew Davies
Zulhilmi Zainal and Nik Afiq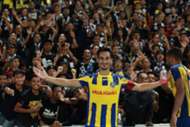 Pahang skipper, Matthew Davies has inisisted that the Elephants will go to Larkin with the intention of winning and advancing to the next round of the FA Cup.
Pahang will face JDT with a two-goal lead after a 3-1 first leg win at the Darulmakmur earlier this month, and Davies told Goal that they will not go JDT with a defensive mindset.
The defender said: "I don't know if we can go there with the attitude to only defend. I don't think the two goal lead is enough especially at Larkin. I think we need a goal at Larkin if we hope to go through."
JDT will play in an AFC Cup group match on Wednesday before they face Pahang but according to the Malaysia international, it won't give any advantages to Pahang.
"JDT have the luxury of a big talented squad that can be rotated. Perhaps the added travel will factor in to the game but I think only slightly."
Meanwhile, speaking of Pahang's chances of winning the Super League title this season after being overtaken by JDT, he responded that Pahang have the players to make something happen this season.
Pahang's title chase suffered a setback in after they drew 2-2 against Selangor last weekend, and Davies said the Tok Gajah are ready to bounce back.
"(After the Selangor game) we sat down and had a chat about what happened. All credit to Selangor because they set up really well and were defensively and tactically disciplined."
"It will certainly be an interesting second half of the season. I think we have the talent and players to make something happen though," added Davies.
Pahang are currently second in the league, three points behind JDT and only one point above Kedah third.