Super League
TMJ plans to do away with Ramadan M-League break beginning 2018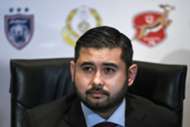 ---
BY        ZULHILMI ZAINAL       Follow on Twitter
---
Speaking during the new Super League trophy unveiling press conference, Malaysian FA (FAM) president Tunku Ismail Sultan Ibrahim has revealed his plan to have the M-League continue taking place during the Muslim fasting month of Ramadan, beginning the 2018 season.
The M-League traditionally takes a one-month break during Ramadan, whereby Muslims refrain from eating and drinking during the day. Apart from the dip in Muslim footballers' fitness, matches held during Ramadan in Malaysia, a Muslim majority country, have also suffered from low attendance.
According to Tunku Ismail, who is also known to fans as TMJ, he plans to do away with the the constant breaks in the fixture that are given not just for Ramadan, but also for junior tournaments and national team training camps.
"We will hold the next (FAM) executive committee meeting in Kedah, whereby we will table a change in the fixtures. The change includes avoiding breaks, when now we have too many of them. We are the only country in the world that stops the league for junior (international) tournaments.
"We have to start emulating what is done in developed football countries such as Thailand and Australia.
"That also includes the Ramadan break, which disrupts the atmosphere and momentum of the league and affects the players. When the players are affected, the national team too will in turn be affected. Muslim countries in the Middle East still hold their competitions during the fasting month.
"The national team training camps will also be changed. There will no longer be one-month camps. The longest they will be held is for 14 days, the way it is done in other countries," explained Tunku Ismail, who is also the FMLLP chairman.
Despite later adding that he will discuss the matter further with the FAM affiliates, Tunku Ismail remarked that a possible dip in match attendance during Ramadan will not be his concern.
"The excuse that fans will stay away is the least of my concern. Our programme has to carry on, we have to carry on.
"If not there would be too many breaks. I hope all parties would agree to it," said the Johor Crown Prince.