African All Stars
Tottenham boss reveals concerns over injured Victor Wanyama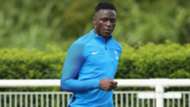 Tottenham boss Mauricio Pochettino has admitted that he is worried about the fitness of Victor Wanyama.
Wanyama will have to see a specialist over a knee injury that has kept him out since the 2-1 defeat to Chelsea on August 20 and Pochettino has no indication when the Kenyan captain will return for the side.
Tottenham are facing problems at the middle of the park with Pochettino confirming that Mousa Dembele has also suffered a fresh injury.
Pochettino told the club's official website: "We are concerned about Wanyama's situation. We must wait for when he sees the specialist and then we'll see what happens.
"But of course after some time without him involved in the training sessions and with the team, we are concerned. But now we need to wait next week to have a more clear idea of what's going on."
On Dembele, Pochettino's assistant Jesus Perez added: "He had an incident in one of the training sessions (before the Real Madrid game), and complained about one of his hips and he's not able to cope with the intensity of the training.
"It's as simple as that. It's been three or four days since the incident and he can't cope with the intensity of the training."
Wanyama missed pre-season with a knee problem and has not played since suffering a reaction following the first two matches of the season while Dembele has not played since the 1-0 win over Barnsley in the EFL Cup last month due to foot and ankle problems.