Championship
Tomlin picks Adomah as most skillful Middlesbrough teammate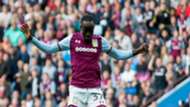 Cardiff City striker Lee Marc Tomlin has revealed that Ghana international Albert Adomah was the most skillful player while they were both at Middlesbrough.
The 28-year-old is returning to Riverside with Cardiff on Saturday for a Championship fixture and it will be the first time he will be facing them since leaving the club in 2015.
Adomah, on the other hand, has settled with Aston Villa after he lost his starting place in Aitor Karanka's team.
"If you tried something and it didn't come off, he would go nuts! So when you were trying to be a bit clever, you better pull it off," Tomlin was quoted as saying by Gazetta Live.
"Sometimes, I don't even think Karanka would say anything if you did it wrong, he'd just give you a stare from the sidelines - you'd know he'd be giving you that look, the eyes.
"That meant you wouldn't want to do it again but Albert tried his best to do some bits, so I'd probably say him."
In spite of his intelligence, Tomlin also believes Adomah was the daftest teammate during their time with the Northeast-based club.
"Albert Adomah is probably up there - but then Grant Leadbitter is a surprise one, you know?" he said.
"He'd always be having a laugh and joking about, but then 30 seconds later he'd switch and become totally sensible and tell you off for clowning about!
"But he's an unbelievable player, a real captain - and he's a great bloke too," he added.
Tomlin argued that former Chelsea youngster Patrick Bamford, who is still at Middlesbrough was the most intelligent player.
"I remember Patrick Bamford was pretty clever - I think he has a degree or something. Nobody believed him when he talked about that.
"In 2014/15 when I played with him, he was unbelievable. He scored loads of goals that season and we worked well together - he was intelligent with his movement and we linked up well.