Arsenal
'They're Everton' - Arsenal a 'million miles' and '£500m' from recovery, says Merson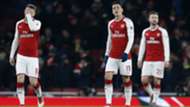 Arsenal are a "million miles" and a £500 million, four-year, multiple manager project away from recovery, says Paul Merson.
The former Gunners star is among those concerned by the regression at Emirates Stadium, with Arsene Wenger's side having slipped backwards to join Everton in a talent group just outside the elite.
Fixing those issues will be no easy task, with it likely that several changes in the dugout will be required to get back on track once the long-serving current incumbent of that post is ushered through the exits.
Manchester United have shown that the road to redemption can be a long one once an iconic manager bids farewell, and Merson believes Arsenal find themselves in a similar boat with an alarming number of leaks.
"Arsenal are a million miles away," the ex-England international told Sky Sports.
"This is a four-year project now, a four-year project and about £500m to get anywhere near back to where they were."
Merson added: "You're going to get a Man United situation when Sir Alex Ferguson left.
"The next manager will come in, it won't work out, they'll get rid of him within a year. Then another manager will come in.
"Things can't get any worse to be honest. They're sixth and that's where they're going to be.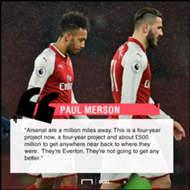 "Surely it couldn't get worse than that. I look at the other teams and no one is going to catch them, I don't see anybody else coming above Arsenal in sixth.
"But this is Arsenal Football Club and they're becoming an also-run, an also-run.
"They're Everton, they're Everton. We've had this with Everton for the last 15 years.
"They're the next best team out of the top six, they're not going to get any better, and this is what's happening with Arsenal."
Arsenal sit 13 points adrift of the Champions League places heading into a Premier League meeting with Brighton on Sunday, with Wenger hoping to see a positive response from his side in that contest to back-to-back 3-0 defeats to Manchester City.