Manchester United
'There is no vacation' - Ibrahimovic vows to be 'better' on Man Utd return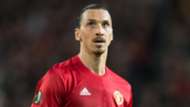 Zlatan Ibrahimovic has vowed to return to the field as an improved player as he works his way back to Manchester United after knee surgery.
The star striker suffered damage to his knee in the Europa League last season, and required surgery to repair it.
Man Utd and Everton 8/1 to draw
Ibrahimovic missed the remainder of the season, but recently signed a new deal at Manchester United in hopes of a return to action in the next few months, even being named to the club's Champions League group stage squad.
And when he does retake the field, the 35-year-old striker is aiming to be even better than he was before the injury.
"I feel good," Ibrahimovic told Inside United. "I have trained every day since I had my knee operated on, there is no vacation.
"It's a new challenge but I am strong mentally and when I focus on an objective nothing can stop me.
"I will go through everything, it doesn't matter what's in my way, I will break everything to reach my goal.
"When I come back to play football on the field I will be better than before. I am not coming back because I am the one I am, I am coming back to be a better version of the old one. Imagine how that will be!"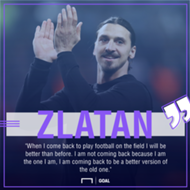 Ibrahimovic also went into greater detail about the injury and his recovery, admitting he never felt pain in the knee. Instead it was an awkward sensation that was felt after the injury, which is something he is now working to overcome.
"If we talk specifically about the injury then I have never felt any pain, the only thing I have felt is a strange feeling in my movement that obviously showed something was wrong in the knee," he said.
"Now we're building it up and it's getting stronger. I feel good and I feel my movements are there. If it was up to me I would like to play football today but it doesn't work like that.
"I need to have patience and that's the way we work. We are in no rush, when we are ready we will be ready. When I am playing again I don't want any excuses that I was injured, or 'he just came back, this is his first game'.
"No - I want to feel the same pressure I had before because everything happened. I am looking forward to that moment."
Ibrahimovic will face competition to regain his starting spot upon returning as the Red Devils acquired Romelu Lukaku in the summer window. The Belgium international has enjoyed a fast start to life at Old Trafford, scoring four goals in four Premier League games thus far.