Transfers
The new Lampard? Why £15m man Barkley could prove a bargain for Chelsea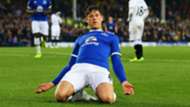 Ross Barkley is finally a Chelsea player, with the midfielder's long-mooted move from Everton to Stamford Bridge having been confirmed on Friday evening. 
The fee is 'just' £15 million, which is a remarkable figure for a young English player in the modern transfer market, but Antonio Conte will have to do an awful lot of work with the 24-year-old if the Liverpool native is to become the great player he has long threatened to become.
Indeed, Barkley has been regarded as one of his country's brightest talents ever since he broke into the Everton first team as a teenager, having been immediately hailed as the new Wayne Rooney. 
The comparisons were understandable. Both were Merseysiders, both were prodigious talents and both were touted as the finest English talents of their respective generations. However, Barkley's career has not progressed at anything like the same rate.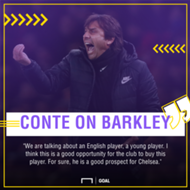 To this point, he has been blighted by injuries and wildly fluctuating form. The wonderful natural talent remains, though. He still has time to realise his potential and Conte is acutely aware of the fact that, for £15m, Barkley could prove a bargain. 
"We are talking about an English player, a young player," the Italian said on Friday. "I think this is a good opportunity for the club to buy this player. For sure, he is a good prospect for Chelsea."
Of course, the Blues have been tracking Barkley for more than a year and would have signed him in the summer had a hamstring injury not prompted a rethink on the player's part.
That did not diminish Chelsea's high opinion of Barkley, though, as underlined by the fact that they have given him the No.8 shirt worn by Frank Lampard, the prolific midfielder who silenced his early doubters by going on to become one of the club's greatest ever players.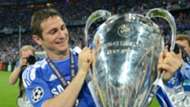 Lampard succeeded mainly through thanks to his immense dedication to his craft, which enabled him to maximise every once of skill he had to become Chelsea's all-time top goalscorer, as well as a Champions League winner. 
Barkley has now been given that same platform to prove himself, even if he has an awful long way to go. Still, with Conte as his coach, he has a chance of realising his potential.
The driven Italian will mould the talented Barkley into a better player. The attributes are already there: Barkley is quick, a good dribbler and has that gentle touch to operate as an effective player-maker.
However, he has to add more goals and assists to his game. He racked up 21 league goals and 19 assists during his time at Goodison Park but that will need to improve as he now tries to break into a starting line-up currently boasting players of the calibre of Eden Hazard, Willian, Cesc Fabregas and Pedro. 
Barkley also needs to work on his defensive attributes. His off-the-ball abilities will be severely tested at Chelsea, given Conte is obsessed with how his players operate when the team is not in possession. 
Lampard, what a player!

— Ross Barkley (@RBarkley20) September 27, 2014
The onus is, therefore, on Barkley to embrace his new strict footballing environment and not shy away from the demands placed upon him. 
However, there's a bittersweet element to the transfer in that another young English player has been signed and will likely jump above academy players in the pecking order. 
Still, this is a shrewd piece of business on Chelsea's part. Barkley is essentially a low-risk gamble that could pay off spectacularly.
In Conte, he has the ideal coach to get the very best out of him; to become a star of English football, just like Lampard before him.