FA Cup
The Football Manager obsessed brothers, the 16 stone forward - Lincoln City's fairytale FA Cup the stuff of dreams
The term "once in a lifetime" is a rarely used one in football, given that the sport is a cyclical one, with the same cabal of teams normally winning the big competitions.
WATCH: Lincoln's epic celebrations
However, on Saturday afternoon, in the sleepy town of Burnley, Lincoln City caused an upset worthy of the description. After playing the Premier League side at their own game on their own turf, and arguably beating them at it, Sean Raggett rose highest to head home a deep corner. Tom Heaton clawed at it, but the ball was over the line, and Lincoln City, tiny Lincoln City, are in the quarter finals of the FA Cup.
There is some dramatic irony at play, with Lincoln's scheduled National League fixture postponed because of the clash with the cup fixture. Sutton United – who face Arsenal on Monday evening – were set to be their opponents.
The away supporters at Turf Moor, a noisy bunch of more than 3,000, did not want to leave the stand behind the goal after the game and it is no surprise. This was an epic performance, with Lincoln fantastic to a man.
Their striker Matt Rhead, a forward with the burly frame of a nightclub bouncer, terrorised the Clarets defence throughout and, in particular, Joey Barton.
Burnley's philosophiser was reduced to stamping on Rhead's toes, before attempting to lure the referee into sending the striker off by throwing himself to the ground.
Rhead's story is all the more remarkable when it is considered that he only turned professional at the age of 28, having previously worked for a construction company alongside playing.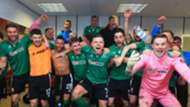 "It was a massive decision to go full time," he told the Daily Mail. "I had a young family and I don't think the missus was too keen on it. It's a bit of a risk. It could've been over in one season.
"I was getting less money than I was playing part-time with a decent job but I was the only part-time player at the club, probably the only one in the National League. It all boiled down to the fact that when you're a kid, you want to play full-time football. I liked it at JCB but 12 hours in a factory is nothing like playing football every day.
"I didn't want to live with regrets. I wanted to enjoy full-time football. It's been four-and-a-half years and I've loved every minute."
It has been reported that Rhead almost left Lincoln in the summer, with Barrow interested in securing his signature, but the appointment of brothers Danny and Nicky Cowley as the new managerial team at the Imps convinced him to stay.
The Cowleys are the two men now tasked with taking Lincoln even further into this season's tournament; Lincoln are a mere two games away from a semi-final trip to Wembley.
Fittingly, given their history with computer games, the cup run is reminiscent of a Football Manager season.
"We used to play Championship Manager," Danny told the Daily Mail. "I remember Mum saying to Nicky, "Get on with your homework and not that stupid computer game". Nicky said to Mum the other day, 'It was my homework!'"
Lincoln will find out their next opponents in what has been a miraculous run on Sunday, with both themselves and Sutton in the hat.
The brothers, and their tank-like striker, will be hoping that once in a lifetime can become twice in a lifetime. As it stands, their dream shows no signs of ending anytime soon.