African All Stars
'The definition of a big game player – Twitter pays tribute to Didier Drogba on retirement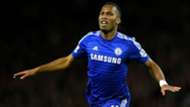 Social media has been awash with tribute to former Chelsea and Galatasaray talisman Didier Drogba who retired from football on Friday.
The ex-Marseille star capped his football career in defeat as Phoenix Rising bowed to Louisville City in the United Soccer League Cup final.
The 40-year-old who was named the African Footballer of the Year in 2006 and 2009 scored 367 goals in 679 club games and 65 goals in 104 international outings with Cote d'Ivoie.
During his illustrious career, Drogba won four English Premier League titles, four FA Cups. three League Cups, one Turkish Super Lig title, one Turkish Super Cup among others.
King Didier Drogba has officially retired, The GOAT

— R Y A N (@CFCRYAN__) November 9, 2018
Drogba retired from Football, this is my best memory of him.
Thank you Didier Drogba, Chelsea fans will always be grateful. pic.twitter.com/zT6yAAkGD2

— AJALA (@UNCLE_AJALA) November 9, 2018
OFFICIAL: Didier Drogba has retired. Video will be done later about him. It's going to get emotional... pic.twitter.com/pUpwHUSB0q

— Younes H-Hamou (@youneshh) November 9, 2018
Didier Drogba has officially retired from football.
An Icon.
A Legend.
One of the greatest African footballers of his generation. pic.twitter.com/wdCfdS6BD6

— 👑 DaddyMO 👑 🚀♠️ (@officialdaddymo) November 9, 2018
King Drogba has retired from the beautiful game ..
He's given me the best moment as a fan of this beautiful game when he made us the champions of Europe.
He deserves a statue outside the Bridge for his contribution to CFC .
Happy Retirement King @didierdrogba @ChelseaFC #legend pic.twitter.com/6unO6dFrs7

— Angkrish Chhabria (@AngkrishC) November 9, 2018
My best ever football player has retired, Didier Tebily Yves Drogba, #KingDidi @didierdrogba @ChelseaFC @BBCSport pic.twitter.com/Oh7pKeuRWU

— BaB€lla (@Babella10) November 9, 2018
Arsenal fans must be very relieved now that drogba retired.

— Alphy 🇿🇦🌍 (@alpheusseboane) November 9, 2018
Arsenal fans when they heard Didier Drogba has retired. pic.twitter.com/GnD2nW93cJ

— TRW CONSULT (@trwconsult) November 9, 2018
Arsenal fans hearing that drogba has retired pic.twitter.com/cZxH3mEwCu

— Benstantine_banc (@NnamdiAkaeme) November 9, 2018