Leicester City
The Australian company keeping track of the world's biggest teams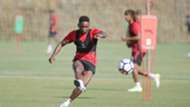 AC Milan. Bayern Munich. Chelsea. Those are just some of the clubs Australian company Catapult has on its books as it looks to maximise the impact of GPS technology on the football field.
Ever notice a little bump high up on a player's back and wondered what on earth was under the shirt? The answer is a GPS tracking device and depending on the club, it could well be one of Catapult's.
Founded in 2006 by Aussie engineers Shaun Holthouse and Igor van de Griendt, Catapult was created after joint research into GPS technology was conducted alongside the Australian Institute of Sport.
Over a decade later and the Melbourne-based company now boasts over 320 employees and has ties to 1800 clubs around the world.
A large number of those clubs are football sides with Catapult making the world game a clear priority.
"We work with over a thousand football teams around the globe," Catapult CEO Joe Powell told Goal.
"That's a key focus for us from an elite perspective and always has been.
"We're going after 10,000 elite teams around the globe and a big chunk of those are football, so that will continue to be a big focus for us.
"We support over 30 sporting codes around the globe, but the number one is football."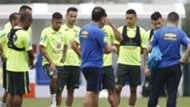 A key principal of Catapult is improving both individual and team performance through their technology, with GPS tracking combining with sports science to allow for meaningful analysis.
One of Catapult's many clients include 2015/16 Premier League winners Leicester City and the Foxes have acknowledged the role Catapult's GPS tracking played in their fairytale story. 
"Matt Reeves is the head of performance there...if you spoke with Matt he'd tell you it was a contributing factor to the success they had, as well as a range of other factors that they were able to leverage throughout that season, but Catapult was one of those," Powell said.
"Matt absolutely believes in the positive impact it can have on performance."
As the company quickly leaves its mark in Europe, Catapult is also proving increasingly influential in Australia - servicing A-League clubs Brisbane Roar and Melbourne Victory along with the Socceroos.
While it's flown under the radar to some extent, Catapult is one company worth tracking as it proudly waves the Australian flag across the world game.