A-League
The A-League needs to improve, says Massimo Maccarone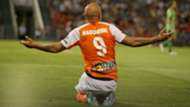 Despite wanting to play another year for Brisbane Roar, Italian striker Massimo Maccarone was deemed surplus to requirements for John Aloisi's side next A-League season.
The 38-year-old played every game for the Roar and didn't miss a training session as they finished sixth and lost 2-0 to Melbourne City in the first week of finals.
Maccarone netted 10 goals and assisted six others in a solid debut season down under but will now likely retire after being told his contract wouldn't be extended.
Though the Italian veteran wanted to extend his A-League career, he admitted the competition has work to do going forward and took particular aim at the refereeing. 
"It's a young league. It has to improve but it's OK," Maccarone told The Courier Mail.
"It's better if I don't say anything (about the referees).
"A lot of decisions cost us. For me there would have been a few more goals, and four or five penalties.
"The VAR wasn't good here, but it wasn't good in Italy as well and that's normal because it's the first year of the VAR."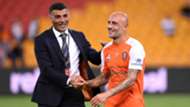 Maccarone conceded this could well be the end of a rich footballing career that has included stints with Middlebrough and Empoli. 
While the striker was cut by Aloisi for next season, Maccarone was full of praise for the Australian coach saying he has no doubts about the work being done at the club.