A-League
A-League cannot be fixed until football leadership is changed in Australia, says Clint Bolton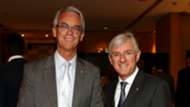 The decline of the A-League is set to continue until the sport's leadership model in Australia is changed, according to football personality Clint Bolton.
Crowd and television figures dropped significantly last season, and with the departure of stars such as Besart Berisha, Adrian Mierzejewski and Bobo, many football fans are worried about the competition's future under governing body Football Federation Australia.
In a week where sprint king Usain Bolt appears set to trial with the Central Coast Mariners, Bolton believes there is no chance the superstar athlete will join the A-League and he is worried the competition will continue to struggle until change happens in the management of the sport.
"Nothing can be solved in Australian football until the [FFA] Congress happens and there is fairer representation in the code for all stakeholders," Bolton told Goal.
"That's the starting point - nothing else gets fixed until that happens and we get people in charge who understand the football landscape and are emotionally invested in our sport.
"Last season was a clear dip in many areas in the A-League.
"Firstly in exposure- there was no promotion of it - clearly the focus was elsewhere with the World Cup coming up. The governing body has dropped the ball there.
"Along the way numbers have dropped on TV, attendences have dropped at most clubs and i think off the back of all that there was a slight dip in quality as well.
"There is many areas that need fixing but ultimately you can't fix anything under the current [leadership] model.
"There is no long term strategy at the moment - for not only our local game but also our national teams."
The FFA Congress is designed to elect the future board members for the governing body and will be held on various dates over the next few months before a decision is likely made in late November.
A joint FIFA/AFC "mission" comes to Australia later this month to help sort out disputes between the FFA and state federations of which stakeholders will make up the Congress.
If a resolution isn't found by late November, FIFA will recommend a "normalisation committee" to intervene and sort out the process.