Lincoln City
'Sutton v Lincoln is going to be a great FA Cup Final' - Twitter reacts to historic giantkilling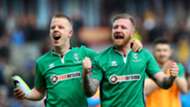 Lincoln City made history on Saturday, becoming the first non-league team to reach the FA Cup last eight in over 100 years.
Their fairytale adventure continued as they defeated Burnley 1-0, and football fans on Twitter were delighted to see them upset the Premier League giants.
Burnley midfielder Joey Barton was a popular target from fans, while many celebrated the 'magic of the FA Cup'.
FT: Burnley 0 - 1 Lincoln

The Imps are through!! AND IT'S THE BLOODY MAGIC OF THE CUP! ALBUS DUMBLEDORE HIMSELF COULDN'T HAVE CONJURED THIS

— Paddy Power (@paddypower) February 18, 2017
When you hear Lincoln City have beaten Burnley in the #FACup... pic.twitter.com/weDOcZk4hJ

— BenchWarmers (@BeWarmers) February 18, 2017
Marvellous. Lincoln City become the first non league side to make the 6th round of the FA Cup in modern times. History is made.

— Gary Lineker (@GaryLineker) February 18, 2017
Teams to win at Turf Moor this season:

 Liverpool
 Chelsea
 Everton
 Watford
 Leicester
Bournemouth
 Middlesbrough

 Lincoln#UTI pic.twitter.com/iDFsl5G0bi

— bet365 (@bet365) February 18, 2017
Lincoln City are the first non-league team to make it into the quarter-finals of the modern FA Cup

Magic of the FA Cup. pic.twitter.com/jgxNwT6LqC

— Premier League (@EPLBible) February 18, 2017
Sutton v Lincoln is going to be a great FA Cup Final

— Andrew (@Hesfivefootfour) February 18, 2017
Tears in my eyes, our club is incredible.

— Lincoln City Banter (@LCFCBanterPage) February 18, 2017
What a great story for Lincoln. Incredible fairytale. So pleased it was on TV this time. FA Cup alive and well.

— John Cross (@johncrossmirror) February 18, 2017
Wowza! Lincoln deserved that and I hope they get the draw they deserve in the quarterfinals! Sport is crazy but absolutely brilliant!

— Philip Beard (@philipb1) February 18, 2017
Never forget that Joey Barton cheated to try and get a man sent off in a match that Premier League Burnley lost to non-league Lincoln.

— Matthew Stanger (@MatthewStanger) February 18, 2017
Real embarrassment as part timers Lincoln secure a 1-0 victory. pic.twitter.com/TBAvAE4VqR

— Seville Calculator (@SevilleCalculat) February 18, 2017
Despite Lincoln's achievements, manager Danny Cowley has his sights set on domestic action, with the National League side facing North Ferriby away on Tuesday.