Olympique Marseille
Instagram king Balotelli reborn - again - after explosive start to Marseille career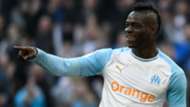 It was the moment that signified Mario Balotelli is getting back to his best – both as a goalscorer and an entertainer.
After scoring a super bicycle-kick to open the scoring for Marseille against Saint-Etienne on March 3 – only a little over a month after joining the Ligue 1 club – the Italian striker celebrated the strike by grabbing a mobile phone and posting an Instagram story with his team-mates to his 8.6 million followers.
This was a quintessential Balotelli moment – and it maintained his hot start in the south of France after scoring on his debut and getting five goals in his first seven matches for the club.
He most recently scored the winning goal against his previous club Nice – the team that seemingly put his career at the crossroads again after freezing him out of the first team squad from December until his move to Marseille during the January window.
It is the same narrative that has followed the 28-year-old at almost every top-flight club he's played at: an impressive burst of goalscoring before ultimately having to leave because of a dip in form and/or disciplinary issues.
Balotelli won three Scudetti and a Champions League in three campaigns at his first big club, Inter, but was eventually moved on to Manchester City by manager Jose Mourinho as problems on and off the field continued to mount.
Mourinho loves to tell a story about his former charge getting sent off Champions League match against Kazan in 2009 – with the team missing both Diego Milito and Samuel Eto'o.
The Portuguese tactician spent most of his half-time team talk in conversation with Balotelli, who had been shown a yellow card just before the break.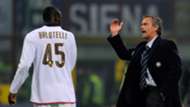 In a 2012 interview with CNN, Mourinho explained, "I said to him: 'Mario, I cannot change you, I have no strikers on the bench, so don't touch anybody and play only with the ball. If we lose the ball, no reaction. If someone provokes you, no reaction. If the referee makes a mistake, no reaction.'
"The 46th minute – red card!"
While this showcased Balotelli's ability to entertain through ill-discipline, he was just as capable of inspiration – as we say during City's first ever Premier League success, in 2011-12.
Even though he scored 13 league goals that season, his most important contribution was providing the pass from which Sergio Aguero won the title on the final day.
However, once again, things quickly turned sour because of his poor disciplinary record on the field and he eventually returned to Serie A to join AC Milan.
City boss Roberto Mancini – a father-like figure for Balotelli – reluctantly admitted that the move had to happen, despite Balotelli's potential to become one of the world's best players.
Balotelli proved that again at San Siro, netting an incredible 12 goals in 13 league matches to help the Rossoneri qualify for the 2013-14 Champions League.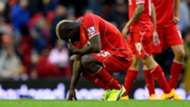 After another solid season in Italy's fashion capital, Liverpool took an infamous gamble on Balotelli after becoming increasingly frustrated in their efforts to sign a replacement for Luis Suarez, who had been lured away.
Unfortunately, the gamble backfired badly. Balotelli never settled on his return to England and quickly fell foul of manager Brendan Rodgers after swapping shirts at half-time of a match with Real Madrid's Pepe – while there was also the fact that he scored just four times in 28 matches.
Following an unsuccessful return to Milan on loan, Balotelli was told by new Liverpool manager Jurgen Klopp that he had no future at the club and he eventually joined Nice on a free transfer.
The goals flowed during his first two seasons in France and it appeared Balotelli had finally rejuvenated his career. But after failing to secure a move away from Nice last summer, he immediately got off on the wrong foot with new coach Patrick Vieira, after turning up to pre-season late and overweight.
When the striker then failed to net during the first half of the season, Vieira went public with his frustration.
"When it comes to Mario, I want to answer back, or just slam him up against the wall or leave him hanging by his collar on the coat rack," the World Cup winner told L'Equipe.
"I have to think twice before I say anything, because it can have an impact and I risk losing a great player. I don't want to say something I'll regret."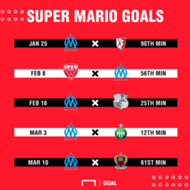 But despite the backhanded compliment from Vieira, Balotelli didn't play for Nice again and was sold to Marseille in January.
Happily, Super Mario has been reborn – again – with his goals having put Marseille in a position to secure Champions League qualification.
The Ligue 1 side have won five of their past six matches and are now only three points behind third-placed Lyon as they chase entry to Europe's premier club competition.
You could see the joy and togetherness of the Marseille players as they celebrated Balotelli's overhead kick on Instagram – but the question is how long will it all last?
Will it be the same old story of Balotelli brilliance before a gradual deterioration leading to his departure?
Or has Super Mario finally found a home he can flourish at long-term?