AIFF Super Cup
Super Cup 2018: East Bengal played as a team, says Khalid Jamil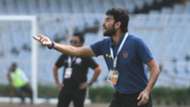 East Bengal head coach Khalid Jamil felt that his team were lucky to score two goals against Mumbai City in the round-of-16 match of the Super Cup 2018 that ended 2-1 at the Kalinga Stadium on Thursday.
Although a stunning free-kick by Achille Emana had given Mumbai City the lead, the Kolkata-based I-League club fought back into the game with goals from Katsumi Yusa and Mohamed Amnah.
Speaking after the game, Jamil said, "The match was very good. We were lucky to get two goals. Everbody worked hard and Amnah scored the winning goal. We played as a team."
After a disappointing I-League campaign that saw them lose out on the race for the title, midfielder Amnah stressed the importance of the win against Mumbai City.
"This game was very important for us because after we lost the I-League, we were thinking about this tournament. We had a good game today, the coach had told us everything. It was a very good win and we are now looking forward to the next game.
"First-half we played very good and had a lot of possession of the ball. Second-half we played on the counter-attack and we scored the second goal. We needed this from the game."
Jamil echoed the match-winner's analysis of the game, "It was good because they became more attacking in the second-half and that opened up more spaces in defence which we could exploit."
East Bengal will now take on Aizawl in the quarterfinal. "It will be a very tough match because Aizawl are a very good team. It's a special team for me and also the coach. We are just thinking about this game now," said Amnah, who also dedicated his goal to his daughter.
"I dedicate it to my daughter because yesterday was her birthday. I promised to score a goal for her and now I have got the winning goal."
Mumbai City's head coach Alexandre Guimaraes congratulated the winners and said that the tournament was a learning experience. 
"We played a very good game. East Bengal took advantages of two situations that they had and they converted. Congratulations to East Bengal for the win. 
"Now with this tournament, we can have an idea about other players who play in the I-League. It has been a very interesting experience, a learning experience," he signed off.