Mamelodi Sundowns
Sundowns will not take legal action against Orlando Pirates over Justin Shonga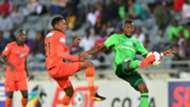 Mamelodi Sundowns will reportedly not pursue legal action against rivals Orlando Pirates over their capture of Zambia international Justin Shonga.
Masandawana were displeased with the way the Buccaneers had conducted business with the 21-year-old, snatching him from right under their nose.
The Brazilians claim they were on the verge of signing Shonga when the player pulled out of the deal to sign for Pirates, and subseqeuently leaving the Sundowns management livid.
However, while it was previously reported that Sundowns would take legal action against Pirates, reports in The Star suggest that the Tshwane giants have backed down from their original stance.
"Sundowns won't be pursuing any legal action against Pirates," a source was quoted as saying by the publication.
Furthermore, the source explains how Sundowns were beaten to the signature of Shonga.
"Yes, the player was on the radar of Sundowns. Nkwazi and Sundowns had agreed and they were waiting for the transfer fee to complete the deal. Sundowns gave Nkwazi the cheque and they were waiting for the cheque to clear after seven days," the source added.
"Pirates heard that Sundowns used a cheque to complete the deal and they came with cash. Nkwazi took the cash and that's how the deal was done. Even the agent (Mike Ngobeni) was at the airport with Sundowns officials waiting for the player. He was surprised when he heard that the player was on his way to Pirates," the source explained.
"They were angry when the incident happened but they realised that even if they wanted to pursue the matter, they weren't going to win," the source said.
"That's why they have decided to let go of the issue," the source continued.
Nonetheless, it has been revealed that Nkwazi have since offered Zambian starlet Lameck Banda to the club, but despite impressing during his trial, he could not be signed as he is yet to turn 18.
"Nkwazi offered Sundowns Lameck Banda after the Shonga incident. Sundowns were impressed by Banda, but couldn't sign him because of the rules, but he will be back in 2019 when he turns 18," the source concluded.
Meanwhile, Pirates administrative manager Floyd Mbele is adamant that the club had done nothing wrong.
"We did everything right when we signed him [Shonga]. We were not aware that Sundowns wanted to sign him and we were not afraid that we might have done anything wrong. We saw the player during the Cosafa Cup and decided to pursue [him]," Mbele said.