PSL
Sundowns attacker Tau's speeding case postponed to July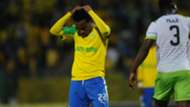 The South African Police Services in the Limpopo province has released a statement confirming news that Mamelodi Sundowns attacker Percy Tau was arrested for speeding earlier this month. 
According to the official statement, Tau was driving in his white VW Polo at N1 next to Nyl Plaza toll gate when he exceeded the speed limit on June 3, 2017. 
The 23-year-old was released on a R1000 bail. He appeared at Mokopane Regional Court on June 15, but his case was postponed to the 7th of July 2017.
Below is the statement released by the SAPS on Tuesday: 
A Mamelodi Sundowns player, Percy Tau aged 23 was nabbed by the provincial traffic officers in his White VW Polo at N1 Road next to Nyl Plaza toll gate for exceeding (the) speed limit on the 03 June 2017 at 18:03.
Tau was travelling (at) 170k/h instead of the maximum speed limit of 120km/h. He paid R1000 bail at Mokopane Police Station and appeared at Mokopane Regional Court on the 15 June 2017.
His case was then postponed to the 07 July 2017.