EC Qualification
Sterling lights up Wembley as England's momentum continues with Czech thrashing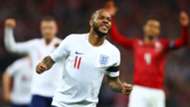 He was able to see Wembley from his window when he was a boy. Now, Raheem Sterling is lighting it up.
And any worries that injuries would disrupt the start of England's Euro 2020 qualification campaign were swiftly put to bed by Sterling against the Czech Republic.
The Three Lions are riding the crest of a wave following a World Cup semi-final run and a successful Nations League group stage and there was no sign of the momentum stopping when the Czechs visited the national stadium on Friday.
It finished 5-0 and could have been more.
Despite some high-profile absentees – which included the Manchester United pair of Marcus Rashford and Luke Shaw – England and Sterling had too much for Jaroslav Silhavy's side on the night.
He is a player in rare form; leading Manchester City's charge for the Premier League title and he has already marked himself out as this qualification phase's standout player.
From the moment he nudged the hosts into the lead, the result was never in doubt. Although the truth of the matter is that it was scarcely in doubt before that.
With Bulgaria drawing against England's next opponents Montenegro – and outsiders Kosovo making up the numbers – the three points earned against the Czech Republic already look unassailable.
England fans might already be looking forward to next summer's roadshow. They should do so and with some optimism too.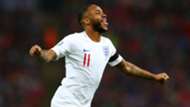 The football they are playing is confident and purposeful. The players look happy and – broadly speaking – there is a vibrancy about how Gareth Southgate is overseeing things. Sterling is right at the very heart of it all.
Jadon Sancho – the Bundesliga hotshot – made his first start. He has spoken recently in appreciative tones about his mentor and idol Sterling – with whom he trained at City – and it was the Borussia Dortmund attacker who supplied Sterling for England's first.
This was the exact opposite of Route One. A patient, probing 25-pass move culminated with captain Harry Kane giving Sancho a through ball of the highest grade. From there, his quick ball across the are was diverted into the net via Sterling.
"It is a great feeling," Sancho told the Wembley crowd after the game of playing alongside Sterling. "He is a great player, as we saw tonight. He is just so so good."
Sterling's goal output at club level for Manchester City has finally caught up with his talent. It's taken him a while to produce the numbers for the national team but the tap has well and truly been turned on.
October's two-goal show against Spain was bettered here with a first-ever international hat-trick. That's the second match ball in as many weeks for Sterling, following his treble against Watford two weekends ago.  
A curling effort in the second half – following a thrusting run from club-mate Kyle Walker – owed less to the quality of the full-back's pass than it did to the ineptitude of the Czech defending.
The third might well have been a lucky finish – via a heavy deflection – but Sterling deserved it. If you don't shoot, you don't score. Sterling is shooting plenty because he believes he can hit the net every time.
He lifted his shirt and revealed a message which paid tribute to young Damary Dawkins, a 13-year boy battling acute lymphoblastic leukaemia, who has sadly passed away. 
Amid all that, he had time to win a penalty. A lovely Dele Alli flick was taken into the area by Sterling before two Czech defenders closed the path in front of him like a malfunctioning automatic door.
Harry Kane does not usually miss from the spot and duly delivered on the stroke of half-time.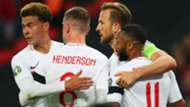 Once Sterling scored his third, he earned his standing ovation and made way for Chelsea's Callum Hudson-Odoi. Aged 18 and 135 days, Hudson-Odoi became England's youngest-ever debutant in a competitive fixture and provoked Tomas Kalas's hapless own goal with a vicious drive which was repelled initially by Jiri Pavlenka.
England relentlessly hit the Czechs down the wings, the gaps all too apparent for quick and intelligent players like Sterling and Hudson-Odoi. England had a plan, and it worked perfectly. Southgate? More like floodgates. 
There was also time for Declan Rice to make his full England debut, a year on from his last cap for the Republic of Ireland. He came on for Alli in the second half when the game was won, as Southgate resisted the temptation to send the 20-year-old into the fold when Eric Dier was injured early on.
England now sweat on his prognosis and are already without the likes of Trent Alexander-Arnold, John Stones, Fabian Delph, Ruben Loftus-Cheek as well as the aforementioned United duo, for the trip to Montenegro.
But this is an England squad with options. Based on this showing they will be fine.
Debuts, clean sheets, hat-tricks, goal-fests… what more could England want?