Africa Cup of Nations Qualification
South Africa vs. Nigeria: How Twitter reacted to the first half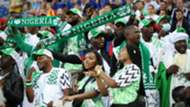 South Africa and Nigeria are tied at 1-1 at halftime in the Africa Cup of Nations Group E encounter taking place at the FNB Stadium, Johannesburg.
The Super Eagles took an early lead after Bafana Bafana's Buhle Mkhwanazi turned the ball inside his net after 10 minutes.
However, Lebo Mothiba saved Mkhwanazi's blushes with the leveler 16 minutes later to send the home fans into a frenzy.
Below are some of the best tweets of the game as both teams will be gunning for the winner in the second half.
On the basis of chances created, Bafana should be 3-1 up now #BafanaMustFall #Team9jaStrong #RSANGA #Afcon2019Q

— Colin NOT Collins (@ColinUdoh) November 17, 2018
Everyone talking about Tau (who has been typically excellent), but it's Mkhize and Hlanti giving South Africa the upper hand tactically. #RSANGA #AFCON2019Q

— Solace Chukwu (@TheOddSolace) November 17, 2018
The day when the Nigerian fans came and outnumbered the South Africans in South Africa!!! Lovely atmosphere!! 👌🏽#AFCON2019Q pic.twitter.com/SfOb4hcka6

— robertmarawa (@robertmarawa) November 17, 2018
So omeruo has a new boyfriend in south Africa that toys with him#RSANGA

— #IbomPoetryDay2 (@jaara_poet) November 17, 2018
With or Without Iheanacho Nigeria will Sha Stomp.South Africa 4:1.... #RSANGA

— The_Uchiha (@Gana_CQ) November 17, 2018
Look at Iheanacho with the touch of a rapist 😩

— Dr. Mohammed Amali 🇳🇬 (@MoAmali) November 17, 2018
Iheanacho is doing well in the Lukaku Challenge pic.twitter.com/ww8vmmC3sn

— Nemelu (@Kun_yayo) November 17, 2018
Kelechi Iheanacho's is to football what DJ cuppy is to music 😪😪

— follow back please.... (@kingboluwatife) November 17, 2018
5' South Africa 0-0 Nigeria

Unless Ola Aina is injured, I do not understand the logic of playing Samuel Kalu as a wing back and leaving Aina out of the match day squad.

I hope Rohr is proved right after 90 minutes.

— Da-Me Prai$£ (@damionifade) November 17, 2018
Samuel Kalu of Bordeaux is a super player. Hopefully top team are watching 👍👍

— BORA JERRY (@JerryBora) November 17, 2018
SA has just one guy that can cause problems. We have Iwobi, Kelechi, Musa, Samuel Kalu and Etebo. We need to pin them back in the second and keep the draw or get a win.

— Odogwu. (@harrissonpedro) November 17, 2018
Highlight of 1st half #RSANGA

Musa- Better than Messi
Iheanacho- still not sure if football is his calling
Etebo- reflect d current state of Nigeria (confused).
Samuel Kalu- Keeps improving by the game
Defenders- Rusty
Iwobi- surrounded by rams...

Second half will be better🙌

— 🇳🇬'Deji🎤 (@DeHJi_Linho) November 17, 2018