Arsenal
Singapore Fans #RaceToTheEmirates with Arsenal Stars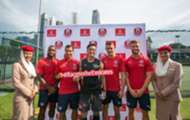 Close to 200 Arsenal fans in Singapore spent a memorable afternoon racing around the civic district and Bayfront area in a bid to score selfies with Arsenal stars Aaron Ramsey, Alexandre Lacazette, Henrikh Mkhitaryan and Shkodran Mustafi in the first ever #RaceToTheEmirates held in Singapore.
The English Premier League stars are in town as Arsenal are set to play in the 2018 International Champions Cup, which will be held from 26 July to 30 July 2018.
The #RaceToTheEmirates saw fans take part in a foot-race, which spanned scenic locations in Central Singapore for the chance to win flights to London and tickets to see an Arsenal match at Emirates Stadium. Fans queued for selfies with each of the stars at the Empress Lawn, Merlion Park, Customs House Terrace and the Bayfront.
By being the first fan to upload all four selfies with the players onto social media with #RaceToTheEmirates, die-hard Arsenal fan Clarence Chin, 37, won the ultimate prize to catch Arsenal live at Emirates Stadium.
He shared, "I participated in the contest on Emirates Facebook page, and ended up winning! I was just like a wide-eyed school boy meeting his favourite team players. It was a once in a lifetime opportunity, and I am thrilled and exhilarated to meet Ramsey, Lacazette, Mustafi and Mkhitaryan today!"
Arsenal midfielder, Aaron Ramsey said, "We really enjoyed meeting and having selfies with everyone who took part in Race to the Emirates today. It was also great to see some of Singapore's key landmarks. Looking forward to welcoming Clarence Chin to Emirates Stadium later this season."
"Our partnership with Arsenal Football Club is one of our longest and most valuable relationships. Through our football partnerships, Emirates supports our valued customers in pursuing their sporting passions. We are inspired to see such passion from the fans today, and hope they enjoyed the experience of meeting their football heroes," said Andrew Bunn, Area Manager for Singapore, Brunei and Malaysia.
With football growing in popularity, Emirates is committed to bringing footballing heroes closer to its fans around the world, and believes in the power of sport in uniting people worldwide.