Ligi kuu Bara
Simba leading a three horse race in Ligi Kuu Bara Title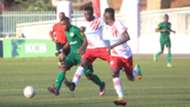 It's clear that in the long-term Simba will be favourites. They have been there before and have the experience to win the Tanzanian league – they started the season slowly but in recent weeks they have really picked it up under the influence of Emmanuel Okwi.
The Msimbazi are unbeaten in 15 games in the legue after their massive 4-0 win against Majimaji last weekend.
But you do feel that if they can get it together, they'll be able to win the title this season. They certainly have the players to do so in the likes of Shiza Kichuya, John Bocco and Okwi.
The leaders are now Simba and prior to the season kicking off, they were expected to do well, especially given that they finished second, behind Yanga last season.
They've prized themselves on having a solid defence and they certainly have that, keeping seven clean sheets thus far this season. Not only that but this season, they have managed to come out on top in tight games.
Simba assistant coach Masudi Djuma believes that Ligi Kuu Bara title is still open to three giant teams.
Djuma said on Wednesday in Dar es Salaam that the three top teams Simba, Azam and Yanga may win the title depending on their strength in the second round of the league.
He added that the second round will be tough because every team will need more points.
"But remember, Simba and Yanga would be in the African tournaments games," said Djuma.
He said it necessitates Simba to win every match in the second half of the league if is to win the Ligi Kuu title.
Djuma said they have already told players that title win is something which they must accomplish this season.
"That is why every game is important and is a final for us to build the reputation of the club," he added.
Simba is currently at the top of the league table with 35 points, five points above Azam and seven points above Yanga.
Simba who hired new high-profile coach Pierre Lechantre will have a tough test against  Ruvu Shooting this weekend in the first match of the second half of the league.