Ghana
Simba goalkeeper Agyei happy with performance in Tanzania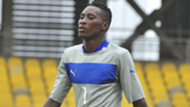 Simba SC goalkeeper Daniel Agyei says he is happy with his performance so far in the 2017 Tanzanian FA Cup.
The 26-year-old has gone four games without conceding a goal, with Simba reaching the semi-finals of the competition after victories over Polisi Dar, African Lyon, Madini FC and Azam FC.
"It's great to finish a game without allowing in a goal and I'm happy with my performance," Agyei said.
"Having done that in previous games, I have to make extra effort to make sure that even in the final, I do not concede to keep this record intact.
"Unfortunately, it can happen that sometimes you allow in a goal despite playing well. I will tell my teammates to fight hard to make sure we emerge as the winners of the competition," he added.
Yanga, Simba, Azam and Mbao are the four remaining clubs to battle it out for the title.