Manchester United
Say what? Man Utd know they have to play the game with Raiola over Pogba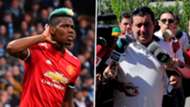 Sir Alex Ferguson doesn't hold back when asked about Mino Raiola and his role in Paul Pogba's initial exit from Manchester United in 2012.
"Paul Pogba? He had a bad agent… a s**t bag!"
His review of the notorious Italo-Dutch agent, captured by rugby player Brian Mujati during a motivational speech in 2017, hardly came as a surprise after the Scot had expressed a distaste for Raiola in his 2015 memoir 'Leading' when explaining why Pogba ended up leaving Old Trafford for Juventus as a 19-year-old.
"There are one or two football agents I simply do not like, and Mino Raiola is one of them. I distrusted him from the moment I met him… We had Paul under a three-year contract, and it had a one-year renewal option which we were eager to sign. Raiola suddenly appeared on the scene and our first meeting was a fiasco. He and I were like oil and water."
The arrival of Jose Mourinho as United boss in 2016 had many conspiracy theorists wondering aloud whether a host of players managed by Jorge Mendes, Mourinho's agent, might arrive at Old Trafford soon after. In the end, though, it was Raiola who cashed in as Zlatan Ibrahimovic, Henrikh Mkhitaryan and Pogba all joined the Red Devils ahead of the Portuguese coach's first season in charge.
Pogba's return for a then-world record £89.5 million landed Raiola a £20m windfall, £7m of which he reportedly splashed out on a villa in Miami once owned by Al Capone. But far from sitting back and lapping up his salubrious surroundings, Raiola has continued to wheel and deal. Romelu Lukaku joined United last summer in another huge deal, while Ibrahimovic and Mkhitaryan both left the club in the early months of this year in further bumper moves.
Elsewhere a stir has been caused in Italy, where AC Milan's exceptional young goalkeeper Gianluigi Donnarumma was labelled 'Dollar-Rumma' and had fake dollar bills thrown into his goalmouth after announcing he wasn't going to sign a new deal with his boyhood club in 2017. While he eventually backed down and signed a four-year contract soon after, Raiola is pushing for his client to test the market once more this summer.
"Gigio made a choice to stay at AC Milan and I respect it," the agent told RAI . "If he should ask me to leave I would work on it immediately because there are important requests. In my opinion, Gigio should leave Milan."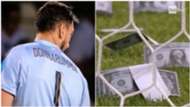 Like him or not, Raiola is brilliant at his job. Whether his players are actively seeking a transfer or not, he makes it his business to know what is available to them on the market. Perhaps that is where Pep Guardiola's revelation came from last week when he said: "Two months ago he offered me Mkhitaryan and Pogba to play with us. Why?"
Guardiola's claim has reinforced some critics' opinions of Raiola, while for others it is further proof of the money-led motives of agents in general. For Manchester United, it is a timely reminder that their relationship with Pogba might always be precarious so long as he has admirers elsewhere and an agent as adept as Raiola at exploiting the market.
The likes of Ibrahimovic, Mario Balotelli, Maxwell, Etienne Capoue, Zdenek Grygera and Pavel Nedved have done very well in the past out of Raiola's ability to test the waters of the transfer merry-go-round and nothing can be taken for granted by any club which agrees to step into the ring with him.
After last week's saga hit the headlines, Gary Neville told Sky Sports of Raiola: "I think he would lie to anyone really. He's a bit of a joke really. He's a poor reflection on Paul Pogba."
But United would do well to be far more measured in their opinion of Raiola, and word around Old Trafford is that they take him very seriously indeed. Just as the board knew when taking on Mourinho that there would be pitfalls in terms of the style of play, there were also no illusions as to what issues they may encounter with Raiola when taking on so many of his players.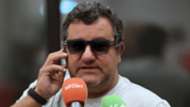 For now they appear unperturbed by the whole episode of last week. The suspicious timing of Guardiola's claim ahead of the Manchester derby helped to make some people's minds up in Raiola's favour, and Mourinho was quick to insist that he had no interest in whether it was Pep or Mino who was lying about what really happened. With West Brom heading to Old Trafford on Sunday and Pogba basking in the glow of his match-winning performance at the Etihad, focus has well and truly returned to the job in hand.
But sooner or later there will become an issue once more. United and Mourinho will again have to deal with the fact that Raiola wants the best future possible for his players. That might mean him promoting the idea of a move elsewhere, or it may be that he recognises a rise in market value and pesters the club for a bigger, longer contract.
One thing is clear: Raiola is not afraid to make enemies if it promotes his clients' needs. And that means he will always be at odds with clubs and managers in some respect.
When it comes to Pogba, United have one of the icons of the modern game in their employ and with Raiola around they will never be allowed to rest on their laurels. An agent who knows the value of everything can help to open doors for his players at any given moment.
And just as United made the most of his powers in the market to snap up Pogba, Lukaku, Ibrahimovic and Mkhitaryan, they need to continue playing the game in order to get the long-term benefit when it comes to Pogba in particular.