Africa Cup of Nations Qualification
SAFA president Danny Jordaan's lawyers respond to rape allegations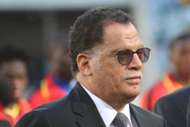 Following rape allegations against the South African Football Association (Safa) president Dr Danny Jordaan, his legal team has issued a statement regarding their plan to tackle the charges.
According to a statement through Jordaan's attorney, Mohlala Attorneys, the country's FA boss is set to approach the National prosecuting Authority (NPA) as they cry foul over the South African Police's handling of the case.
The statement from Jordaan's legal team labelled allegations by former African National Congress (ANC) Member of Parliament and singer, Jennifer Ferguson as unfounded.
The Mohlala Attorneys has released the statement in response to the charges made by Ferguson for an incident that allegedly occurred more than two decades ago.
Safa recently said they stand by their leader until he is proven otherwise by a court of law, the allegation was initially made last year when Ferguson took to her Facebook account to accuse Jordaan.
However, Ferguson opened a case in March this year and the police also confirmed that a docket was opened following an alleged rape incident which happened at a hotel in Port Elizabeth in 1994, but the Mohlala Attorneys said they are yet to see the docket and will take the matter to the NPA.
The full statement from Mohlala Attorneys as published by Sport24:
It is almost a month since we learnt in a press report that Jennifer Ferguson has laid a complaint against Dr Danny Jordaan about an alleged incident more than 20 years ago.
Despite numerous attempts to contact authorities including two letters directed to the South African Police Service, we have been unable to determine any information about the whereabouts of the docket.
The lack of information is damaging to our client.
As Dr Jordaan's attorneys, we have attempted to engage the SAPS and the investigating  officer in this matter and will soon contact the National Prosecuting Authority in an attempt to have the matter dealt with as soon as reasonably possible.
We reiterate that Ms Ferguson's allegations are absolutely unfounded and untrue and that her true motives are deeply suspect.
Yours
Mohlala Attorneys
Meanwhile, Eye Witness News reports that Jordaan's lawyer Mamodupi Mohlala-Mulaudzi said the police's actions are unfair and damaging to her client.
"As Danny Jordaan's attorneys, we have attempted to engage the SAPS and the investigating officer and will contact the NPA to have the matter dealt with as soon as possible," she said.