Rufino Segovia
Selangor are family to Rufino, who dreams of becoming Red Giants legend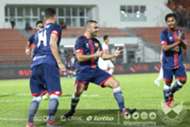 ---
BY        ZULHILMI ZAINAL       Follow on Twitter
---
After just eight competitive appearances this season, Selangor striker Rufino Segovia has already bagged 10 goals; including a brace that put the Red Giants in the driving seat in their quarter-final FA Cup tie against Kuala Lumpur with a 3-0 win last Saturday.
His current tally has matched his goal count in 2017, which he recorded over 12 competitive appearances. And with around six or seven months still remaining in the 2018 season, it is safe to say that the Spaniard may end up coming away with the golden boot award when the league concludes, should he keep up his performance of course.
Asked about the inspiration for his stellar form at the club that he joined in the 2017 mid-season transfer window, the former Atletico Madrid and Kitchee man responded that it is down to the fact that he is very happy at Selangor.
"I am very happy here. The management takes a good care of me and I am friends with every one. It's a shame that a number of players we had last year are not with us anymore, but that's okay; I get along with everyone.
"I think it's the most important thing for players, to feel happy at the club. This will improve your performance. When things don't go your way, you go home and start having negative thoughts and this will in turn make you play worse," said Rufino when met by Goal after training on Wednesday.
His happiness may be a side effect of his brilliant performance, but Rufino also makes sure he works on his mental preparedness, which according to him comes easier at his age.
Despite the fact that he is 33-years old, around the period when most forwards start to slow down, Rufino said he is now better at maintaining his focus, which is also helped by him staying alone in the accommodation provided by the club, and him preferring to stay home over going out on his rest days.
"My family isn't with me in Malaysia because my father has undergone two heart surgeries and been advised against travelling far. They want to come with me, but it's better if they stay home to keep an eye on my father. So I live alone in my apartment.
"I am already 33 years old, so I spend my free time relaxing. When I get back from training I make sure I get a good rest and eat good food. This keeps my mind on the game as I know the team needs me; I need to be ready for the matches. My mind is only on the team most of the time!" he declared.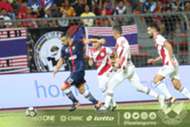 But no good player can be considered great without winning any silverware, and we asked the Spaniard about Selangor's chances in the FA Cup, with the Red Giants having put one foot in the semi-finals with their comfortable first leg win last week.
"If you don't think like this (believing in chances to win the cup), you've already lost. Now we stand a good chance to make it to the semis, but there's still one game in the quarter-final tie.
"Yesterday you saw what happened to Barcelona (losing 3-0 to AS Roma in their second leg quarter-final Champions League match, to lose 4-4 on aggregate on the away goal rule), didn't you? Against Kuala Lumpur we need to score another goal in the first half, to kill the game," noted the Spaniard.
With such a mentality, there is little surprise that he is fast becoming one of the fan favourites. As if his free-scoring form isn't enough, the fact that Rufino can be seen entertaining fans' requests for photos and his autograph after almost every match, even after defeats, has endeared himself further to the red and yellow faithful.
"The team is like my family and I feel like I'm home here. The fans are also a part of the team, and they travel far to attend our matches. I have to respect the fans win or lose, when things don't go our way they still turn up, and even if we lose I need to show respect to them.
"It's very important for me to be close to the supporters; they're our 12th player," he explained.
Already there are talks on social media of his growing stature at the club, and he may some day etch his name as one of Selangor's legends. When asked about this, he answered without hesitation:
"I'd like that!" enthused the Spaniard. "I know it's difficult and I need to show more, but in every game I try to improve, to score and win.
"But if one day I get to be a legend here, to have the supporters remember my name for a long time; that's a dream for me."
But for now, Rufino would simply like to continue performing well for Selangor, and see if he could get a one-year extension for 2019.
"My future is with Selangor and my contract is until the end of the season this November. But I hope the club will offer me another year because I'm very happy here, and my family is also happy to see me playing well here.
"I want to be here for many more years to come, and the rest is up to the club's management," added the striker.