Transfers
'Rooney-Everton talk makes no sense' - Mou shuts down exit rumours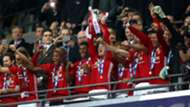 Jose Mourinho has shot down talk that Wayne Rooney's failure to appear for Manchester United in their 3-2 EFL Cup final win over Southampton suggests an exit is imminent.
The stats that show Arsenal have underperformed
The captain began the match on the bench and failed to step onto the pitch at Wembley despite the Red Devils chasing the game, even if the striker lifted the trophy wearing the armband at the end.
Rooney has only made 17 appearances this term after falling out of favour under Mourinho, with the 31-year-old being dropped from the starting XI in September after several poor displays.
He had been linked with an exit during the January transfer window, even though he eventually decided to stay put at the club he joined in 2004 and fight for his place.
However, the England international has failed to start a Premier League game since February and missed the entirety of the EFL Cup final, even if Mourinho states he remains as important to the club as ever.
"Wayne Rooney to Everton?" the Portuguese responded to reporters. "Okay. I only can say that in the [EFL Cup] final, with the result 2-2, with the team in difficulty, with the team possibly going to play 40 more minutes, Rooney was ready to go onto the pitch.
Barcelona should appoint Sampaoli to keep Messi happy
"So he's not a player you play in the last minute, to give him a gift to be in a wining final, he's a player you trust and you are going to play, with making probably your crucial change.
"So, until the end of the season, 100 per cent he is with us. Next season, I would like him to be with us, but he is always a player who is always very important, but I cannot say [100 per cent he will be at United].
"He is selected for tomorrow with possibilities to play – to start or to be on the bench.
"So, since the moment he decided to stay and help the team and to fight for the team, he is an important player for us, and I think by giving you these two little – or big tales - I'm telling you all the talk about Everton makes no sense."