Real Madrid
Ronaldo suffers nasty bloodied cut to the head & uses physio's mobile phone to assess the damage!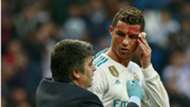 Cristiano Ronaldo did not like what he saw after using a mobile phone as a compact mirror to check out a nasty cut to the head!
The Real Madrid striker finally broke a lengthy scoring drought with two goals as Deportivo were routed 7-1 on Sunday at the Bernabeu. 
His second strike of the game, however, came at a price. 
Ronaldo caught a stray boot to the head as he powered an effort past Ruben, and proceeded to stay down in order to receive treatment in the immediate aftermath.
He was eventually helped off the field by a Madrid medic, while his team saw out the final minutes at the Bernabeu in complete control despite being reduced temporarily to 10 men. 
Even in the heat of action, however, the Portugal star could not help but check out the extent of the damage to his face. 
The medic's phone was seized and Ronaldo looked at his reflection in the screen, as blood flowed down from the wound. 
Ronaldo took a kick to the head and asked the physio for his phone to see how bad it was. He is absolutely raging too after assessing the damage. pic.twitter.com/CMRMbFl8MM

— Robbie Dunne (@robbiejdunne) 21 de enero de 2018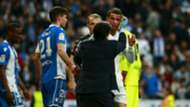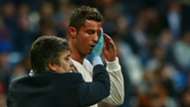 Judging by his reaction, he was less than pleased to see his movie star looks distorted by the cut!
What, we wonder, would the likes of Terry Butcher have to say about Ronaldo's concern in the middle of a match?!