U17 World Cup
Road to the U17 World Cup: India U16 star Rohit Danu called up for USA tour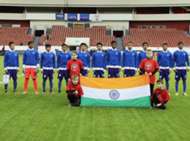 The U-17 World Cup is set to kick off on 6 October 2017, in India. With less than 100 days to go for the headline event on home soil, the host nation's team continues to be pruned and re-evaluated based on the observations of head coach Luis Norton de Matos.
India U-17 team's performance overview
The Young Tigers are returning to the country after completing their European tour where they registered four wins besides six draws and defeats respectively, before which there was a correspondence with the India U16 team in Goa regarding Rohit Danu to join the preparatory India U17 team on the tour to the United States of America, Goal has learnt. 
Before the U-17 team set off on their foreign exposure trip to Europe in April, they had played a couple of practice games in Goa, among which one was against the India U-16 team where de Matos noticed the calibre of the attacker playing under Bibiano Fernandes.
India U-17 to travel to USA, Mexico & Australia
Danu's skills were also on display when he struck a hat-trick in a 3-1 win over Smouha Club in the India-Egypt Friendship Cup 2017 in April this year after scoring in the preceding 2-1 victory over Al-Ahly's U-16 team, impressing in the two friendlies played on Egyptian soil.  
Speaking on the whippersnapper with potential, his coach affirmed, "Rohit Danu is a sharp player who can give an added edge in the U-17 team's attack."
Meanwhile, the India U-16 team is preparing themselves for the upcoming South Asian Football Federation (SAFF) U-15 Championship from 18th to 24th August before battling in the qualifiers of the 2018 Asian football Comfederation's (AFC) U-16 Championship from 16th to 24th September 2017, both of which will be staged in Nepal.