NPFL
Rivers United's Stanley Eguma plots FC Ifeanyiubah fall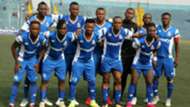 Rivers United coach Stanley Eguma is optimistic that he has the players and the right strategy to plot the fall of FC Ifeanyiubah when they trade tackles on Sunday in a league tie in Port Harcourt.
The Pride of Rivers just secured their first away win of the season last weekend and Eguma revealed that he has told his players to concentrate on claiming the maximum points and bother less about the underwhelming performance of the Anambra Warriors since the league resumed on January 13.
"The players know what it at stake and they have promised to get the job done against our opponents. We know that they are presently not doing well but I have told them that they should not put that in mind if they want us to pick the three points and thus improve our position in the league table," Eguma told Goal.
"We didn't start the season very well but we have kicked on from that with the away win against Kwara United. We won't allow that to get into our heads.
"I have told the players to forget about the feat we had in Ilorin knowing that it has now belonged to history. We want to make fresh name for ourselves and it is important we beat them (FC Ifeanyiubah) on Sunday and assure our fans that we have truly woken up from our slumber."
The former U23 coach also pointed out that he and his players are not moved by the prospect of moving closer to the top of the league table which a home win guarantees on Sunday as it is their resolve to take the games as they come.
"We are sixth in the league table presently but to frank with you, I am not part of those that desire interest in studying the league table at the early hour of the season like this. We are only concerned about winning our home game and we count the position we end up with at the end of the weekend matches as bonus.
"We know we are headed and we won't allow distraction to creep now that things are taking shape," he said.
Rivers United are sixth in the league log with 16 points from 10 matches.