Premier League
Referees are destroying Ghana Premier League, says Akunnor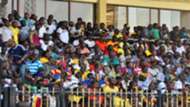 Ashanti Gold coach C.K Akunnor has taken a swipe at Ghana Premier League referees, labeling them as "destroyers".
The Miners' aim of beating the drop following a frustrating campaign was dealt a big blow, after losing 1-0 at Golden City Park to Berekum Chelsea in the Ghana Premier League matchday 25 fixture.
"What's going on in Ghana football is not only affecting us (Ashanti Gold) but affecting everybody. Clubs play an away game and referees cheat them for the home team to win," Akunnor told Otec FM.
"The flow of the game is currently being destroyed [by the referees]. They're not only destroying away teams during games but also the quality of play which both clubs are expected to sell to supporters to improve the league," he said.
He added: "The referees are not just cheating clubs but they're destroying the game entirely and the authorities must act. They might think they're frustrating away teams but their actions go a long way to deter supporters from attending live games. There are fans who want to watch quality football but may not be motivated to return after such abysmal performances from the referees."
Ashanti Gold sit one place above the drop zone with 31 points, and will host Berekum Chelsea at the Len Clay Sports Stadium on Wednesday.