Malaysia
Recalls for JDT players and first call-up for Pahang's Nor Azam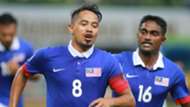 Nelo Vingada names his first squad for the upcoming 2019 Asian Cup qualifier against Lebanon on 13 Jun 2017. The list sees players called up from six different teams participating in the Super League.
There were no surprise when Johor Darul Ta'zim (JDT) players were included in the list, including those that previously announced their international retirements. Safiq Rahim, Amirulhadi Zainal, S. Kunanlan and Aidil Zafuan are part of the squad and they are joined by seven other team mates - making JDT the team supplying the highest number of players.
Meanwhile Pahang's good run sees Nor Azam Azih rewarded with his first international call-up. The midfielder is joined by fellow midfielders Syamim Yahya and Wan Zaharulnizam. Pahang captain, Matthew Davies retains his place in the national squad.
Kedah have five players in this new squad with Syazwan Zainon, Baddrol Bakhtiar, Khairul Helmi, Rizal Ghazali and Akram Mahinan all making the squad from the 2017 FA Cup champions.
The full list of call-ups as per below.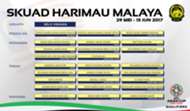 Courtesy of FAM