RB Leipzig
RB Leipzig star set for big payout after inserting ingenious clause in his contract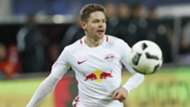 RB Leipzig star Dominik Kaiser is set to cash in on the club's incredible rise to the Champions League.
All the latest transfer rumours
The Bundesliga outfit have secured their place in Europe's premier club competition after guaranteeing a top-three finish with a 4-1 win over Hertha Berlin.
And Kaiser in particular will be celebrating the club's success, with the 28-year-old having rather ingeniously inserted a Champions League clause in his contract when his side were in the fourth tier of German football.
As a result, the midfielder will receive a sum in the region of €300k and, confirming the clause, he said: "That is how it is with long-term contracts. You should think about every eventuality.
"Of course I did not really believe we would play against the best teams in Europe next season.

"I am not a guy who buys lots of stuff. I will save the money for now."
Leipzig secure Champions Leauge qualification
Leipzig's incredible story has seen them achieve four promotions in seven seasons, having only been founded in 2009, after they secured promotion to the Bundesliga for the current campaign.
And having kept pace with the likes of Bayern Munich and Dortmund at the top of the table, Ralph Hasenhuttl's side can now look forward to testing themselves against the cream of European football next season.