PSL
PSL slam Safa's latest sponsorship deal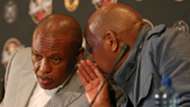 Premier Soccer League (PSL) chairman Irvin Khoza has slammed the new sponsorship deal that was agreed upon between the South African Football (Safa) and Outsurance. 
Safa recently announced a five-year partnership with the insurance and financial services company as they look to inject funds into their referees programme. 
The governing body for all football in the country stated that it was looking to improve the standard of match officiating in the PSL and amateur ranks. 
However, Khoza has insisted that the sponsorship deal is not in the interest of football as he addressed the media on Thursday. 
"For all the years I've been in football, I've never read a statement from Safa written in that manner. We have been quiet in the media because our main aim is to find a solution which is in the best interest of football. We are going to seek advice from our legal team and sponsors for a way forward," Khoza said of the statement that was issued by Safa amid the discontentment regarding the deal.  
Khoza, who is also the chairman of Orlando Pirates, revealed that he has struggled to make contact with Safa President Danny Jordaan, who has been in Niger.
"The statement from Safa was sent out while we were still in a meeting with them in order to resolve the matter. That was unfortunate. We have sent letters and (texts) but there have been no responses," he continued.
"We are very disheartened because this reminds us of where we come from. The correspondence we see from Safa amounts to insults. We can't understand why this simple thing which could have been dealt with indoors was thrown out to the public," he added. 
Meanwhile, PSL board member Kaizer Motaung also questioned the sponsorship - stating that the deal could harm football forever. 
"One just wonders what has triggered this. If we don't deal with this matter, it is quite clear that the football industry will be injured. We as the PSL have done everything according to the book," the Kaizer Chiefs club chairman said.
"Some of the things mentioned in the statements from Safa have nothing to do with this matter at hand," Motaung added.