Opinion
POLL: Who is your favourite Super Eagles No.6?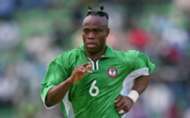 In continuation of Goal's No. 6 series, we want an insight into our readers' favourite footballers.
This time, we want to know which of these Nigerian football icons you love the most wearing the country's No. 6 jersey.
Joseph Enakarhire, Taribo West, Danny Shittu, Thompson Oliha or Chidi Nwanu? Have your say below.
This content is brought to you by Nokia 6 beautifully crafted with the latest Android immersive technology.