Young Africans
Pluijm: I will sign if Yanga give me the right offer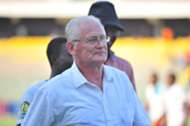 Singida United Head Coach, Hans van Pluijm has revealed that he is ready to return to Yanga if he receives the right offer.
Yanga are currenty looking for another Coach after George Lwandamina's shock exit last week, with reports suggesting that he is set to rejoin his former club Zesco United.
Speaking to Goal, Pluijm said that if Yanga will decide to bring him back then they have to ensure that they make the right offer otherwise he will not sign.
"Yanga is one of the big guns in Tanzania if not in Africa, so there is no coach who can turn down the chance to be there," said Pluijm.
 
Pluijm won two Premier League titles with Yanga and one FA Cup before being replaced by Lwandamina in 2016.