PSL
Platinum Stars owners seriously considering selling the club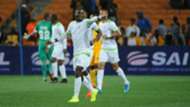 Premier Soccer League (PSL) outfit Platinum Stars could soon be sold by the owners, Royal Bafokeng Nation (RBN).
On Tuesday, reports stating that members of the RBN in Phokeng' North West' are seriously considering selling the club emerged.
According to The Sowetan source, high level discussions have taken place at the Royal Bafokeng Supreme Council.
It is said that if the creative and cost effective ways of running the club are not found in the coming days' RBN may be forced to sell the club.
"It is an undeniable fact that there have been discussions at a higher level of the Supreme Council but nothing concrete has been decided on the way forward'" the source said.
"This is a sensitive issue for the leaders in the area because there are many serious things related to social welfare of the people like water' sanitation' health' infrastructure and education which are top priority for them," the source continued.
"In all honesty' RBN would not have a problem continuing to run a professional football team but they are under pressure because their mandate is to look after the interests of the people in the communities," he source added.
"It is not a secret among high-placed people in the authority that they are looking at creative ways in which they can continue to own and support the club without spending too much money like they are doing now," the source concluded.
Dikwena players have been busy preparing for their upcoming 2017 Caf Confederation Cup Group B match.
Stars are scheduled to take on Algerian club MC Alger at the Stade 5 Juillet 1962 in Algiers on Friday.