Platinum Stars
Platinum Stars coach Roger de Sa has had enough of 'Gomes show' every week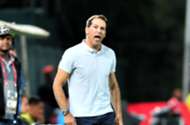 In 2018 alone, a number of Premier Soccer League (PSL) coaches have raised their concerns with the standard of PSL refereeing and Platinum Stars mentor Roger De Sa is the latest on the list.
Following their 2-1 loss against Maritzbug United on Friday night in the PSL, De Sa was left unhappy with referee Victor Gomes' officiating.
Dikwena looked to be heading to their first win in 2018, until United scored through Andrea Fileccia's brace to seal a late 2-1 win for the Team of Choice.
The Belgian forward netted a late penalty after what the former Ajax Cape Town, Orlando Pirates coach believes it was unfair and was also given his marching orders.
In his post-match reaction, the Bafana Bafana legend did not mince his words when speaking about the man nicknamed 'Penaldinho'.
"Before the game starts' and you see (which referee) comes out to warm up' you've got to be prepared for it. Stats will tell you' more than anything' it is not going to be football' it's going to somebody else who will steals the show'" said De Sa.
"Everybody knows that. Not just me as a coach' but every coach knows that. If that is what the game is about," he continued.
"A good game is when the game ends and you don't even know who the referee was. I think that if more referees knew that' we'd probably have better football all-round," adds the former Maritzburg coach.
"But look' we are not in charge of that department. We just have to knuckle down and keep going. Bigger and better people haven't changed that. So who am I to change that? every time we say something' we get punished. It is always the same coaches who say it and we are the ones who get victimised," continues the coach.
"Not only do we get victimised straight away but also in future games. They hold grudges and they come out and look for you. We all know that happens. We can't run away from it," he added.
Looking at this year alone, SuperSport United's Eric Tinkler complained about Gomes as they lost to Bloemfontein Celtic in the Nedbank Cup after his side was penalised for a spot kick.
On the other hand, Mamelodi Sundowns boss Pitso Mosimane was sent off for protesting on a decision when Tebogo Langerman was adjudged to have fouled Craig Martins against Cape Town City – in what looked like a shoulder charge.
For Dikwena, midfielder Charles Baloyi made contact with the ankle of Mohau Mokate in the penalty area and Gomes awarded the kick after his linesman Luvuyo Pupuma had flagged for it.
"It's disappointing but it is expected' though. It's like playing in Africa. You've got to expect those decisions and that kind of thing," noted De Sa.
"The worst thing about it is' I said to him after the game' 'Victor' come on man' you can't have the Gomes Show every week'. Those were my exact words," he stated.
"Is that a red card? That's all I said. I was actually trying to give him a bit of advice. And he turned around and said that was 'ungentlemanly conduct' and gave me a red card," he added.
"You need a bit of common sense and a bit of an IQ sometime'" De Sa concluded.