CAF Champions League
Plateau United's Ambrose charges Nigerian clubs to learn act of sportsmanship from Eding Sport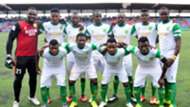 Plateau United's Jimmy Ambrose has stated that fans of Nigerian clubs have a lot to learn from Eding Sport because of their act of sportsmanship before, during and after their Caf Champions League Preliminary Round, Second Leg tie played on Wednesday in Yaounde.
The Peace Boys star said the experience they had in Cameroon was similar to the one they are used to in Jos during their home matches and that Eding Sport fans even hailed them before and after the end of the match.
"I will like to say that we had a period to remember in Cameroon. We were well received and the reception was as if we were at home. On matchday too, the atmosphere was not charged as it ought to be. We were relaxed and there was no tension of any kind," Ambrose told Goal.
"I actually thought they would be hostile to us based on the information they were fed with about us not taking good care of them when they got to Lagos. They are good people and their fans too were very hospitable.
"I think various clubs in Nigeria can learn from the Cameroonian club, Eding Sport on how best to treat their visitors. They need to enlighten their fans and supporters that they need to comport themselves no matter the result of the match. The Cameroonians were praising us and also appreciating good football.
"We will like this to start happening in the league also so that cases of crowd violence will be a thing of the past. We can get it right in the league also."
A first half strike from Raphael Ayagwa was enough for the Nigeria's reigning league champions to secure a precious away win to qualify 4-0 on aggregate and they will face Etoile du Sahel of Tunisia in the next round next month.