Transfers
Patrick Mayo: Ace Khuse is not ready to coach Kaizer Chiefs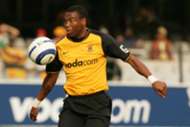 With the debacle involving Kaizer Chiefs and Madagascan club Fosa Juniors regarding midfielder Andriamirado 'Dax' Andrianarimanana, it looks like Amakhosi did not do their homework on the player.
The fight between the two sides comes on the back of Chiefs having already announced that they have signed the Malagasy international.
However, the Juniors recently released a statement explaining that the player belongs to them and was not a free agent as was initially believed.
Amakhosi signed the attacking midfielder following his stellar displays at the recent 2018 Cosafa Cup tournament in Polokwane
Moreover, the Naturena-based side has since written to the Madagascan side in an aim to find a solution to the matter. 
This situation is nothing new for Chiefs who were previously involved in a battle with Bloemfontein Celtic for the services of striker Camaldine Abraw after he had reportedly signed for both sides.
Although Amakhosi eventually won the battle for the Togolese striker, according to club legend Patrick Mayo, players are at fault for rushing into signing a contract. But he would also not rule out the possibility of Chiefs having not done thorough research.
On the other hand, Chiefs have since threatened to take the matter to Fifa if the player is not released to them.
Speaking to Goal on Saturday, the former Chiefs player admitted that the club may have jumped the gun a little in their attempts to sign the player.
"Yeah I can say they (players)  rush to sign for big clubs and it becomes a problem, then it is out in the media," Mayo told Goal.
"Sometimes the players forget they are committed to their clubs and it comes back to hurt their chances of joining a new club," he said.
"It affects the players who sign without making it clear that they have an existing contract and this is not the first time with Chiefs," added the retired player.
"I don't think they do their research enough before signing players, they rush, and scouting players in a tournament needs research because a player can rush as well." he said.
"Look, all players will sign and agree with any club in a tournament because Chiefs is a big club and they will promise a good offer," explained the former Bafana Bafana player.
"They should've talked to the club and found out on the player's contract on how many months he has left at his club, before negotiating a contract or possibly signing the player on a pre-contract," responded Mayo.
"I think they must reply to the club because that is the right procedure when looking for a new player. This might affect the player because he will be under pressure to perform after all this fight, if they sign him, and it could backfire if his club doesn't release him," continued the former Mthatha Bucks player.
Meanwhile, speaking about Donald 'Ace' Khuse's readiness to coach Chiefs, Mayo begged to differ saying 'Ace' is not experienced enough to coach at senior level.
"They are under pressure to find a coach and time is running against them, but Ace is not the right man to coach Chiefs," he reacted.
"He worked under Ted Dumitru and they (with Doctor Khumalo) all got credit as a coaching staff, but he is not ready to become a head coach because he has not done something special even at youth level at Chiefs," noted Mayo.
"I fail to understand why he said he is ready because he has not even coached a PSL club, on the other hand, (Patrick) Mabedi will work hard in the pre-season and a new face might come and change all of the ideas and Mabedi will now look useless," added the 45-year-old.
"SuperSport United and Chiefs are big clubs and to start their pre-season with no coach is not good for their ambitions," concluded Mayo.