Chapecoense
Out of the ashes: The incredible story of Chapecoense's resurrection
Gabriel Pazini & Daniel Edwards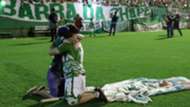 In a matter of minutes, Chapecoense's dreams of lifting the Copa Sudamericana were transformed into the worst nightmare possible. The charter flight carrying the Brazilian team, club officials and journalists crashed just outside Medellin on November 28, 2016 on the way to the first leg of the final against Atletico Nacional, killing 71 of the 77 people on board and sending the entire football world into mourning.
Now, 12 months on from that hideous tragedy, the memory of those lost lives on in a club that has risen from the ashes of disaster.
Chapecoense were almost gutted by the disaster that befell the LaMia 2933 charter flight, which went down just a handful of kilometres from its destination after running out of fuel. The club lost 19 players in its accident, as well as venerable coach Caio Junior. Just three players survived: reserve goalkeeper Jackson Follmann, whose career was nevertheless ended after losing a leg in the tragedy; Alan Ruschel, and Neto.
Follmann, who continues to work closely with the club and trains avidly with a prosthetic limb, has pictured the final that never was in his mind.
"If I told you I had never imaged it I would be lying," he told Goal. "Of course I imagined us walking out on the field against Atletico Nacional, especially in that game in Colombia.
"I imagined an excellent game for us, as usual. We were a very strong team away from home."
Starting keeper Danilo was a symbol of the tragedy. The 31-year-old had been with Chape since their days in Serie B, and in the Sudamericana made four shoot-out saves to see off Independiente followed by an incredible point-blank stop against San Lorenzo to seal a place in the final. He initially survived the crash and was even able to call his wife from the wreckage, but later lost his fight for life.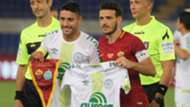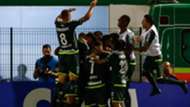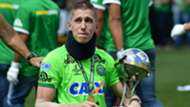 "I love you, no matter what happens," were his final words, according to partner Leticia, and he left behind an infant son. Jandrei, the man tasked with filling the Chape net in the absence of Danilo and Follmann this year, admits he was determined to pay tribute to the fallen hero.
"I felt honoured [to start in goal] and also that I had a great responsibility," the goalkeeper told Goal .
"I knew I was entering a net where many have made history, like Nivaldo, who is still at the club, and Danilo who tragically is no longer with us, and also Follmann. I knew the scale of my responsibility and its importance, and that I would have to give my best to see my work recognised and to honour everybody, especially Danilo.
"Danilo stopped four penalties and also made the save that sent Chape into the final. They are moments that are engraved in Chapecoense history."
But it was not just the idol between the posts that had to be replaced. Shorn of the vast majority of their first-team squad, Chape were forced to pair the few squad members who had not travelled to Medellin with a motley collection of loanees, most generously ceded without charge by their Serie A rivals in a laudable show of solidarity. Against all the odds, that hastily-assembled team exceeded all expectations.
Chapecoense retained their Santa Catarina state championship title, while only an unfortunate administrative error in the Copa Libertadores concerning an ineligible player in a victory over finalists Lanus cost them a place in the tournament's knockout stage. Despite fighting on several fronts, moreover, the side returned a wholly respectable Serie A campaign: with just one game to go they lie in eighth and retain an outside shot of another Libertadores place for 2018.
One year after the tragic plane crash, fans of Chapecoense reflect on the moment, and what's to come. pic.twitter.com/6ftS6oJGcc

— Goal (@goal) November 28, 2017
"Everybody here thinks the same way and is totally dedicated to helping Chape," Reinaldo, the on-loan Sao Paulo playmaker who has been one of the stars of the season, explained to  Goal. The challenge of turning the anguish of November 28, 2016 into joy has been a motivating force behind the entire club this year, as Reinaldo can attest. 
"We all wanted to make supporters smile again. Without forgetting everything that happened we also made a pact of joy amongst ourselves in the dressing room, because without joy there can be no football."
Away from the pitch, little seems to have changed. After an initial flurry of arrests the case has ground to a halt in the justice system of Bolivia, the country where the charter plane was registered to LaMia. Early reactions, pinning the blame on LaMia owner and the craft's pilot Miguel Quiroga, one of those lost in the tragedy, for his frugal refuelling, has largely remained unchanged a year down the line. "The investigation is almost non-existent," Jerjes Justiniano, lawyer of fellow former LaMia executive Gustavo Vargas, told reporters in a recent statement.
Nor, in general terms, has the custom of hiring charters that watch every penny changed on a continental level. Several Colombian clubs, understandably given the tragedy that occurred on their soil, have foregone such services in favour of commercial flights when travelling around South America, but they are the exception rather than the rule.
Libertadores finalists Gremio were recently forced to fly from Bolivia to Brazil in an Ecuadorian military jet due to issues with a charter flight in Santa Cruz de la Sierra, while a lengthy charter delay for Atletico Tucuman in the same competition almost saw the Argentines forfeit a match – only reaching their destination after a breakneck, police-assisted dash from Quito airport to face El Nacional. It is clear that, running for the most part on wafer-thin budgets, South American clubs and those responsible for logistics continue to take risks with the aim of keeping costs to a minimum.
If the Chapecoense tragedy taught us anything, however, it is the importance of living every day to the full. Follmann has taken that message to heart, and despite seeing his professional career end in the accident he prefers to see his survival as a blessing, particularly after seeing so many of his friends perish alongside him.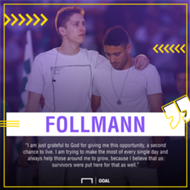 "Life has been wonderful," he said. "Now I am a proud amputee and I do so many things. I play my football, drive my car and practice several different sports. I am very happy and I also train every day at the club, and that does me good.
"It is a time to learn many things and I am looking to learn as much as I can so I can put it all into practice, along with the 12 or 13 years I have spent in the sport.
"I am just grateful to God for giving me this opportunity, a second chance to live. I am trying to make the most of every single day and always help those around me to grow, because I believe that us survivors were put here for that as well."
The LaMia disaster shook Brazil and South America to the core. It was a criminal loss of life, and the full story behind the plane that went down in the dense undergrowth outside Medellin still needs to be told. But thanks to the superhuman efforts of survivors like Follmann, Neto and Ruschel, and of the players that stepped into the breach at Chapecoense, a glimmer of hope has emerged out of the ashes.
It is that hope that has kept the club afloat when all looked lost and that keeps the former goalkeeper buoyant against all odds, and should be treasured as we remember the catastrophe one year down the line.
All interviews and videos carried out and edited by Gabriel Pazini and Rodrigo Hoschett