Premier League
Opoku slams 'unprofessional' Aduana Stars management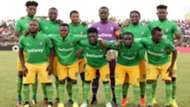 Aduana Stars midfielder Elvis Opoku has descended on the club's top hierarchy, accusing them of poor treatment.
The 24-year-old signed a three-year contract extension with the Ghana Premier League champions in January but insists he wants his contract terminated since he is no longer interested in staying at Dormaa Ahenkro.                
"I want my contract mutually terminated although I have a little over two seasons left. I'm not ready to play for the club again due to the unprofessional nature of the club's management," Opoku told Nhyira FM.
"We were promised several things including a land by the club's owner after winning the league last season but none has been fulfilled
"The managerial style is terrible, very terrible to say the least. They don't manage players well. Several injured players like Hafiz Adams and Anokye Badu have been left on their own despite picking up serious injuries while playing for the club in the Caf Confederation Cup.
"Nobody even calls them to know the progress of their recuperation or to wish them well and that is very bad. Things are really horrible at the club but they make it looks awesome from the outside. There are players who are even without accommodation and have to beg other players in order to stay with them.
"For instance, I had to accommodate one of the players at a point because there was no accommodation provided for him by the club and I couldn't stand his struggles. I am a first team member so I know what is happening," he added.
Opoku joined Aduana in 2015 from second-tier side Bibiani Gold Stars.